IQ
-08-SL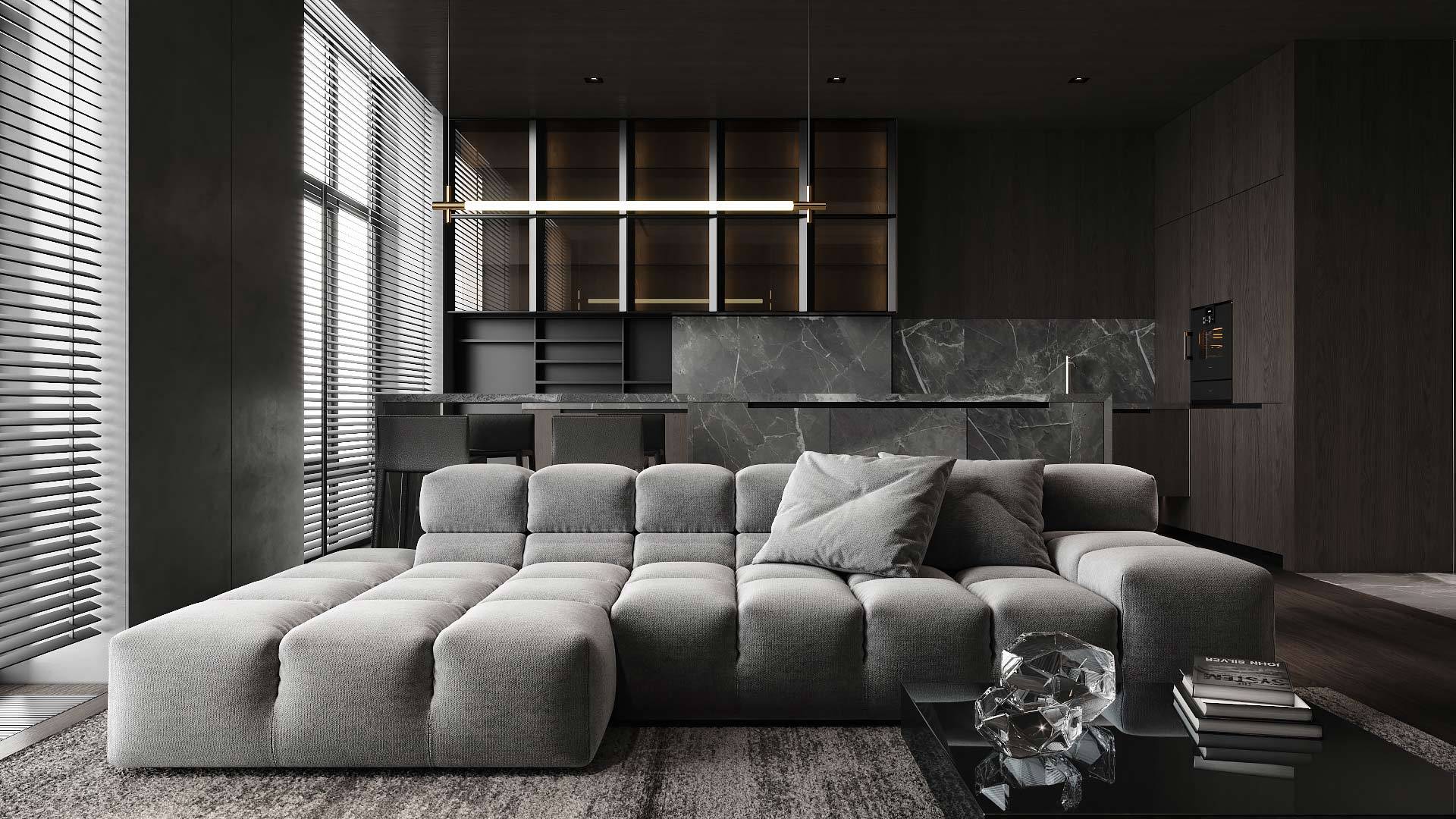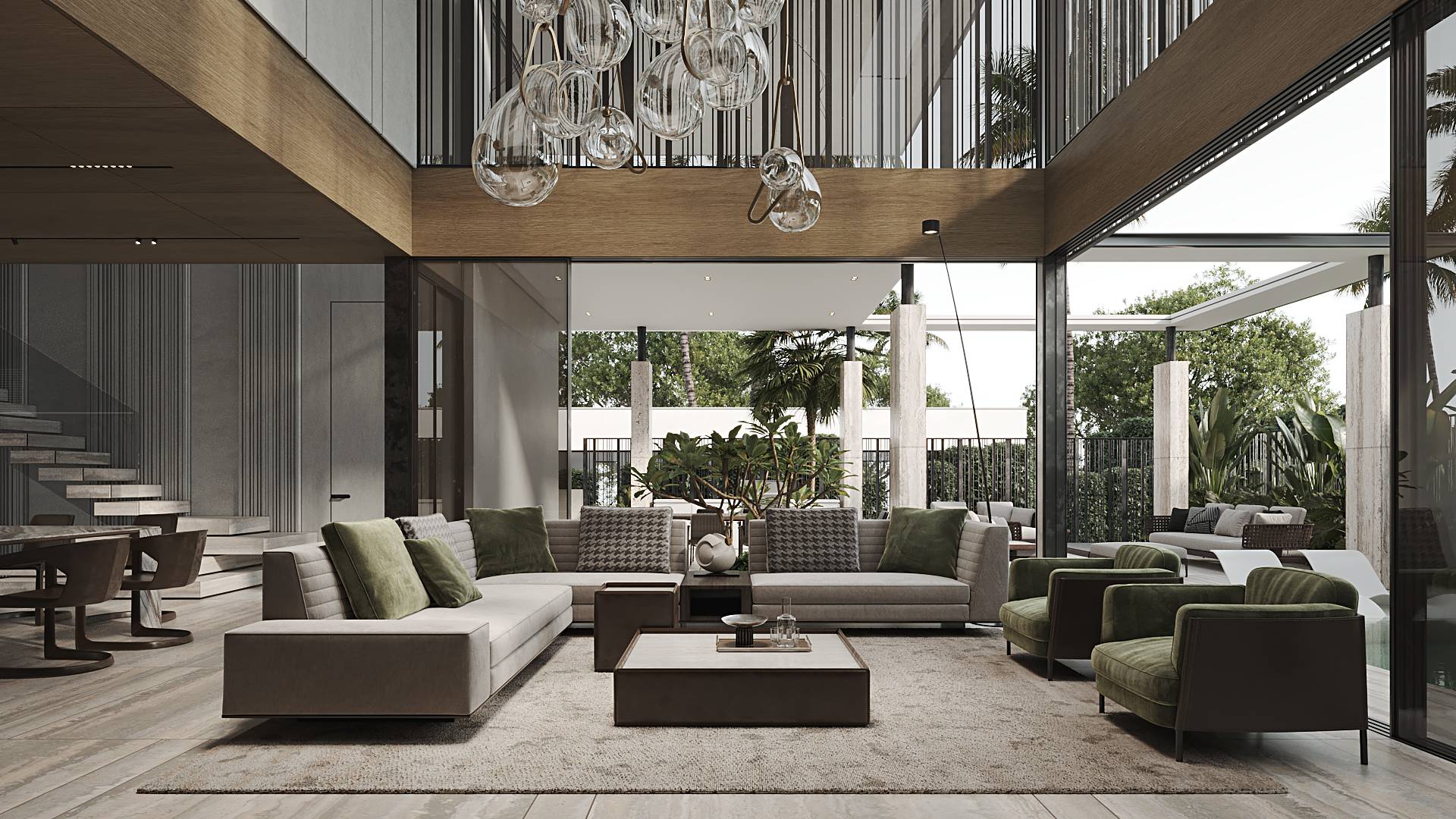 ---
People like dark interiors for many reasons: some find them calming, others — impressive, while for many more, they reflect their personal style. At IQOSA, we support and relate to every single one of them. The apartment you're about to view is a mix of those ideas. Our client wanted to have minimalistic functional elegance in dark tones, and we came up with a concept he loved at once.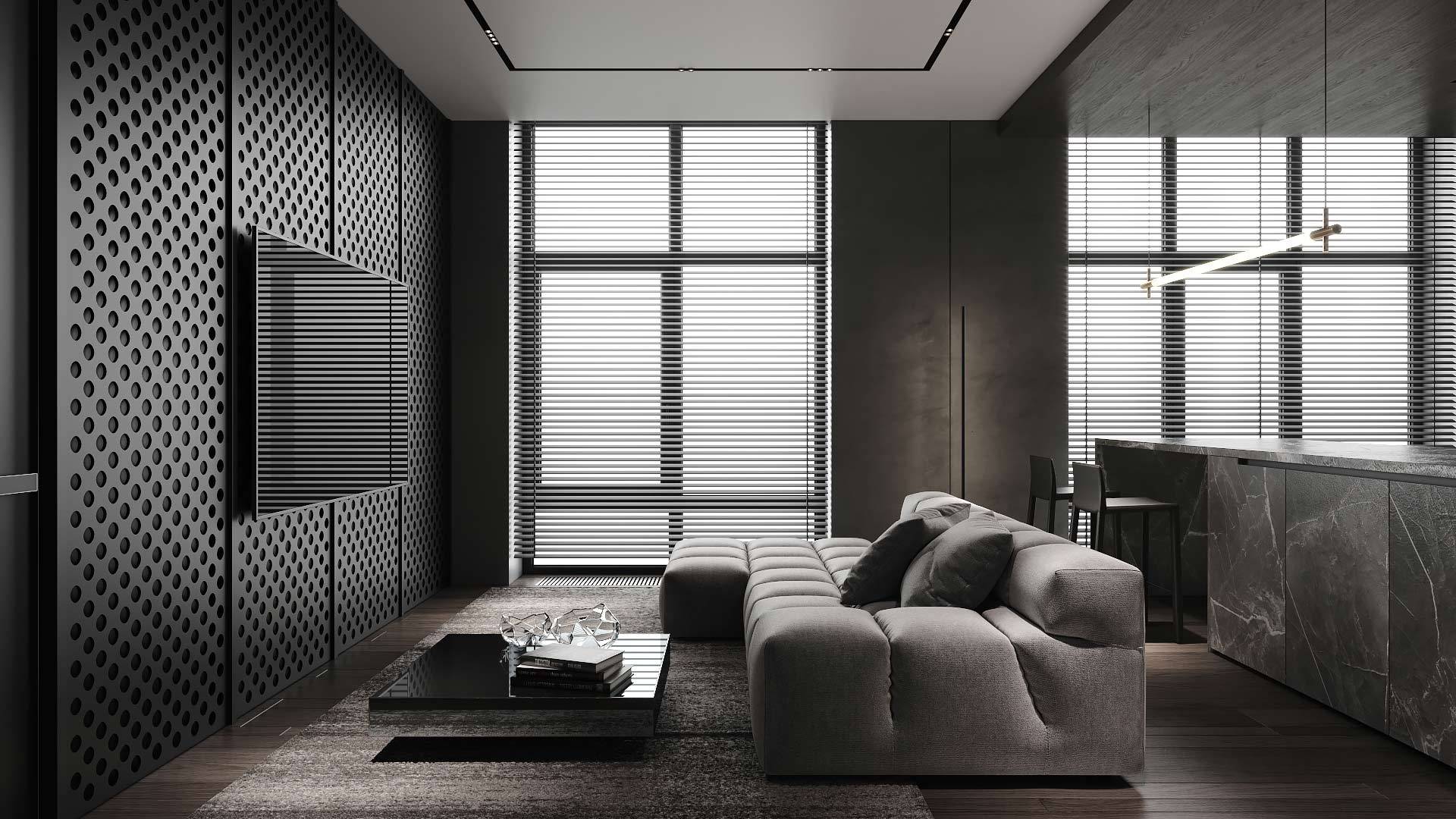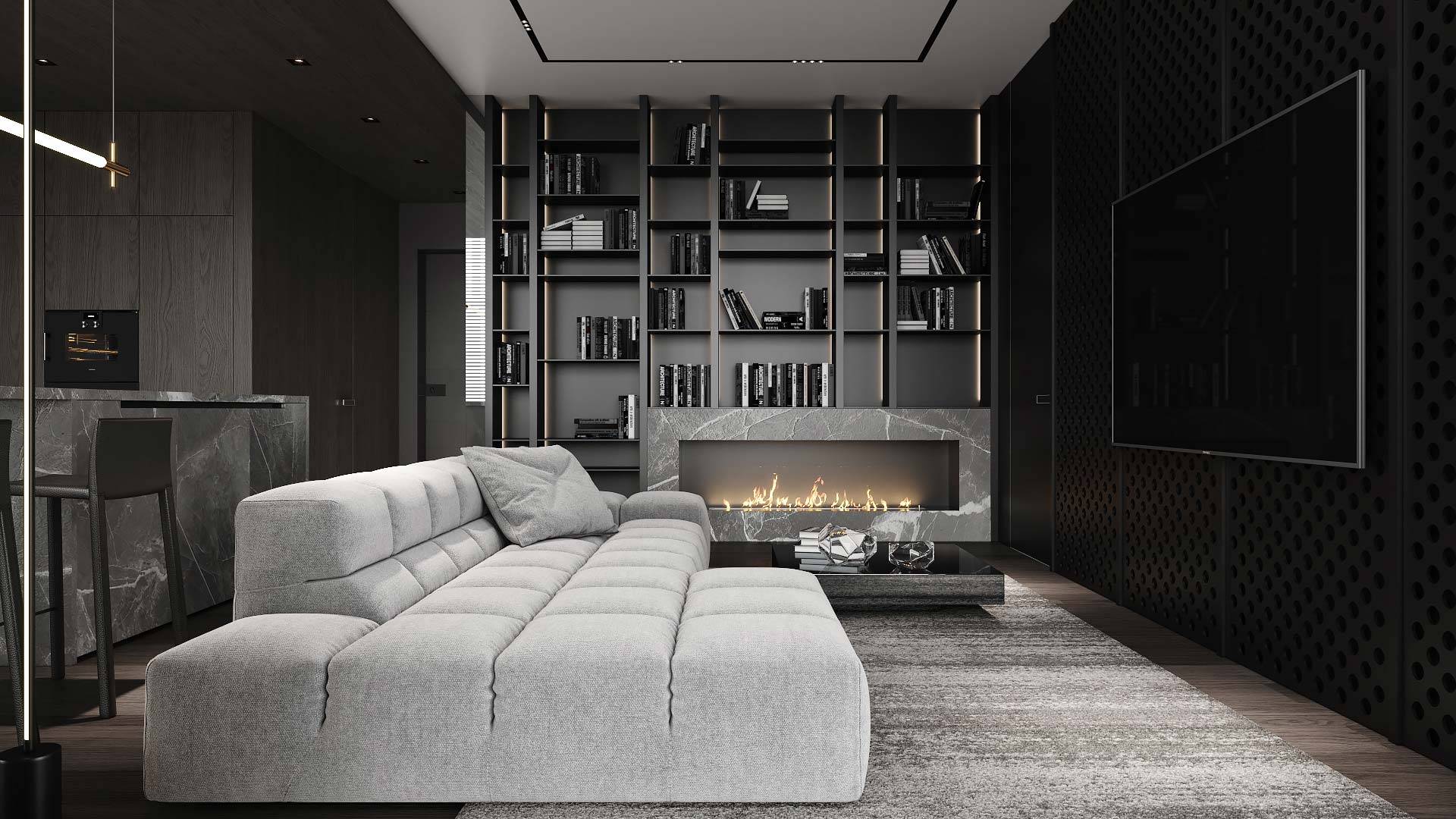 The perforated metal panel behind the TV is the attention-grabbing center of the living room — not only it brings up a strong masculine vibe but also interacts with a contrasting geometry of the window blinds. This creates a sophisticated look that allowed us to keep other elements, like the B&B sofa and block coffee table, simple. Since our client had a huge book collection, we made custom shelves with a bio fireplace. This installation added a homely warmth and depth to the space.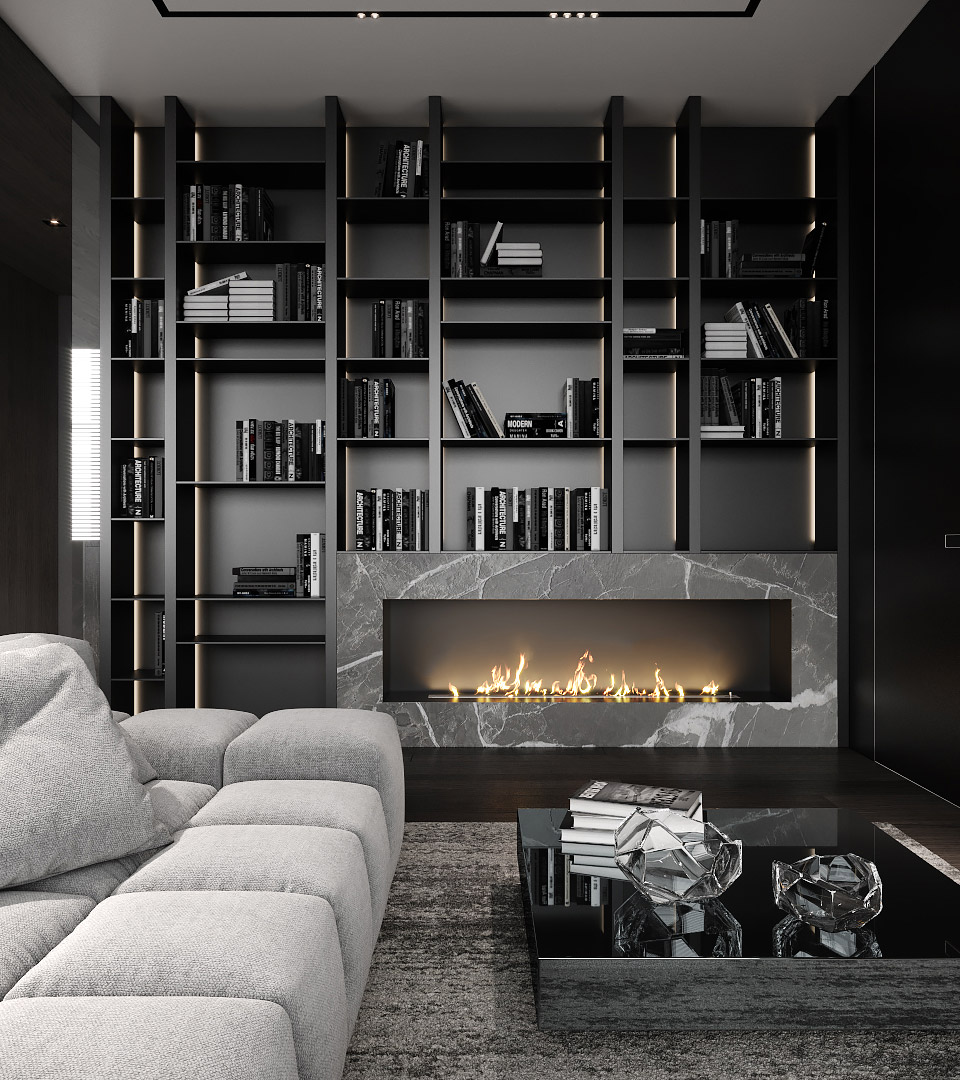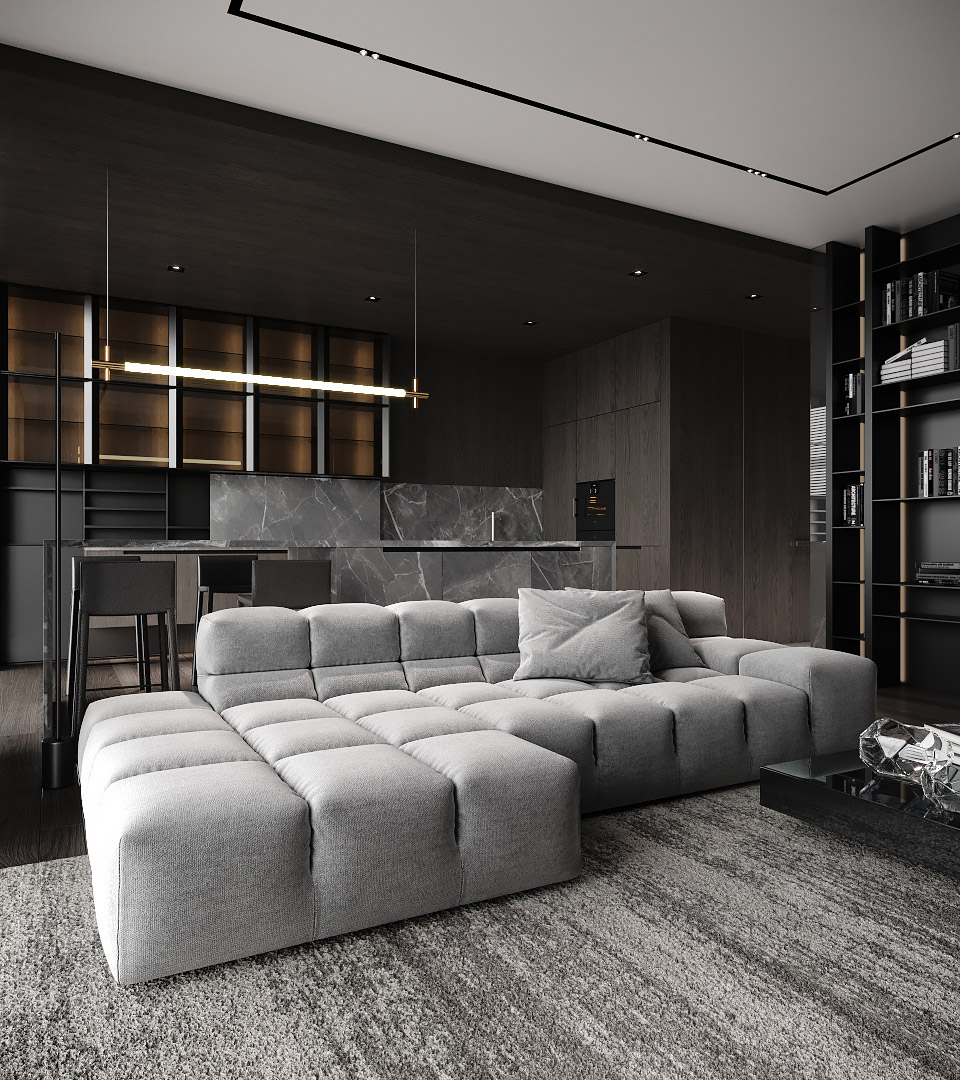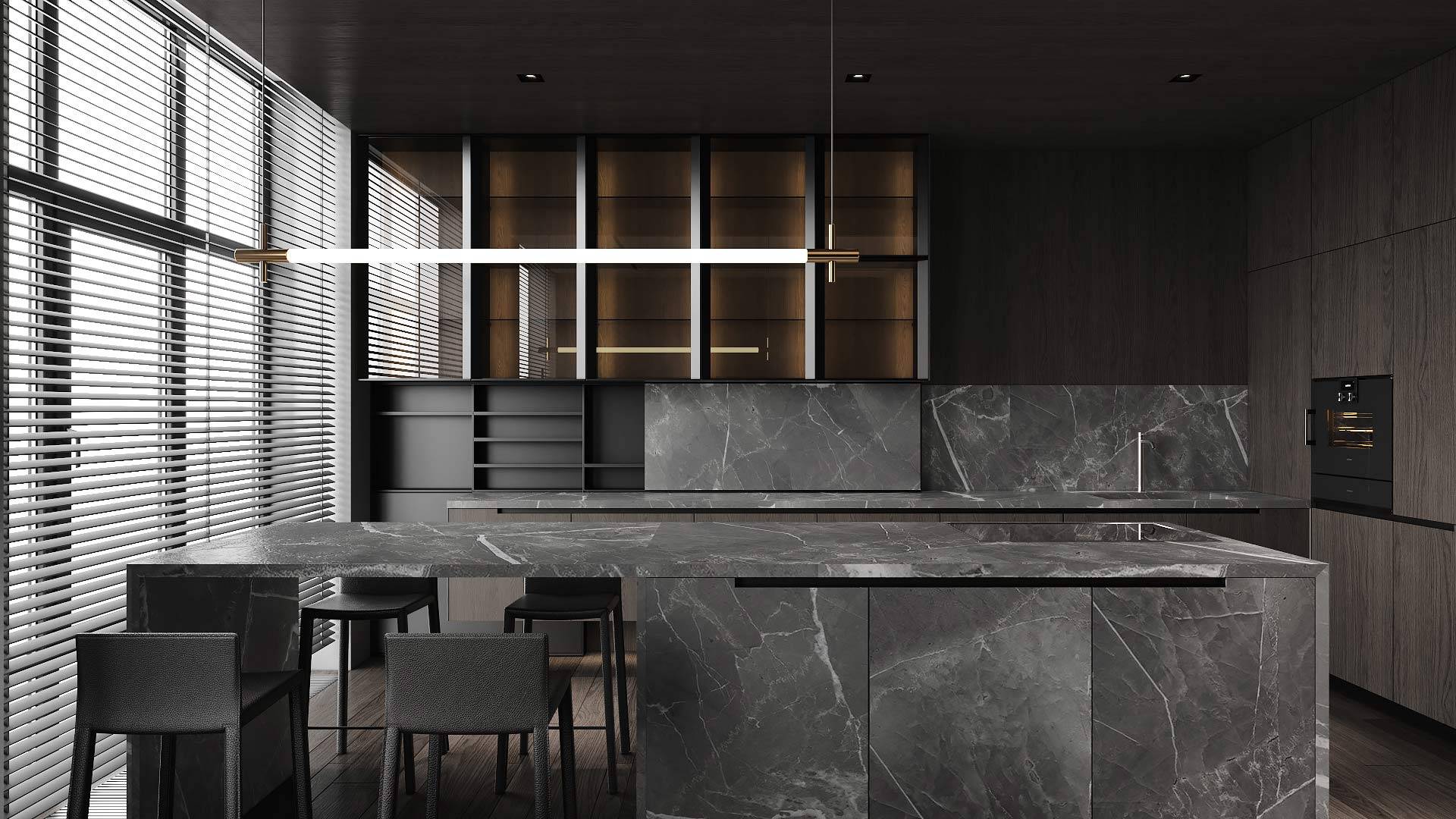 Marble, wood, and glass in brown and gray created the look we aimed for: minimal, yet meaningful. The wall with cabinetry on the right is all covered in wooden panels, and this monotonous look hides all the appliances you expect to have in the kitchen. The wall with the sink and working zone looks more complex. It has a wood and marble mix that covers the storage spaces and niches with sliding doors, thus giving the wall more volume or more color combination. A table and island 2-in-1 with a stovetop separates the kitchen from the living room and functions as an incredibly active element of the space. Inside the island part, there's a mini-bar and a few drawers to store kitchen stuff in. Pay attention to how the geometry of the lamp interacts with the forms of the glassed cabinetry. From afar, it looks like the bottom of the cabinet shelved is lit, but that's just the side effect of placing the linear lamp at the right height.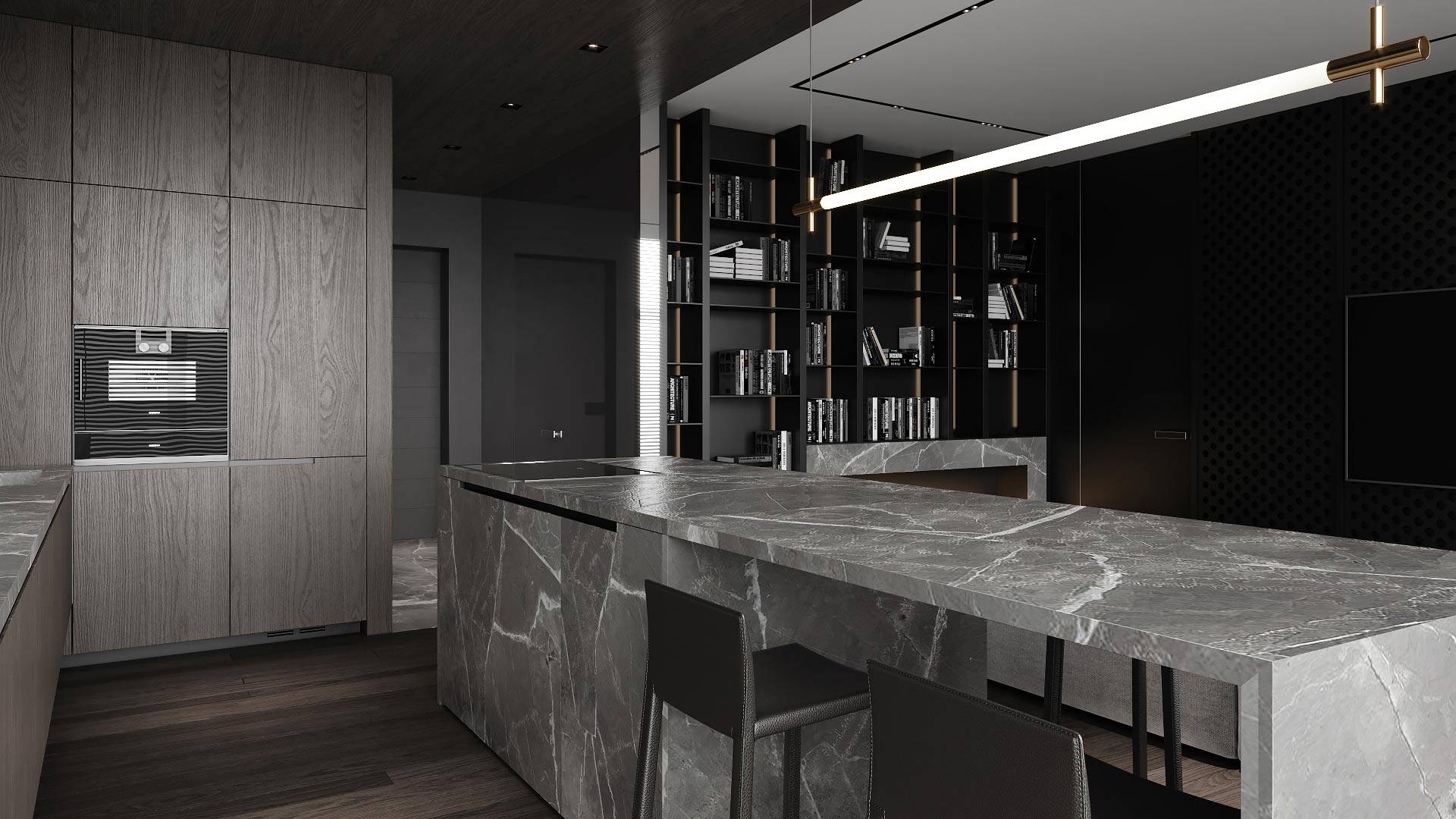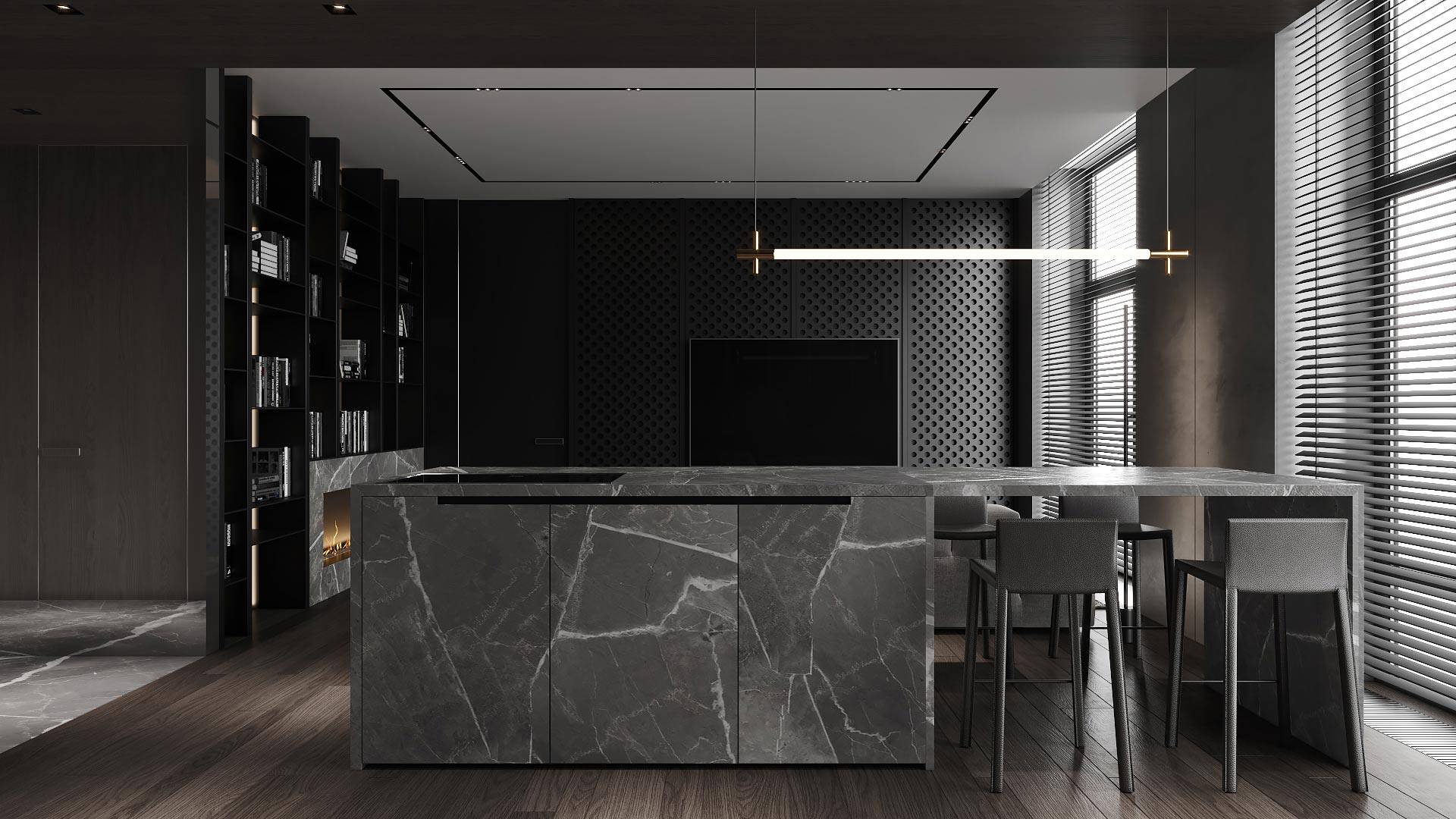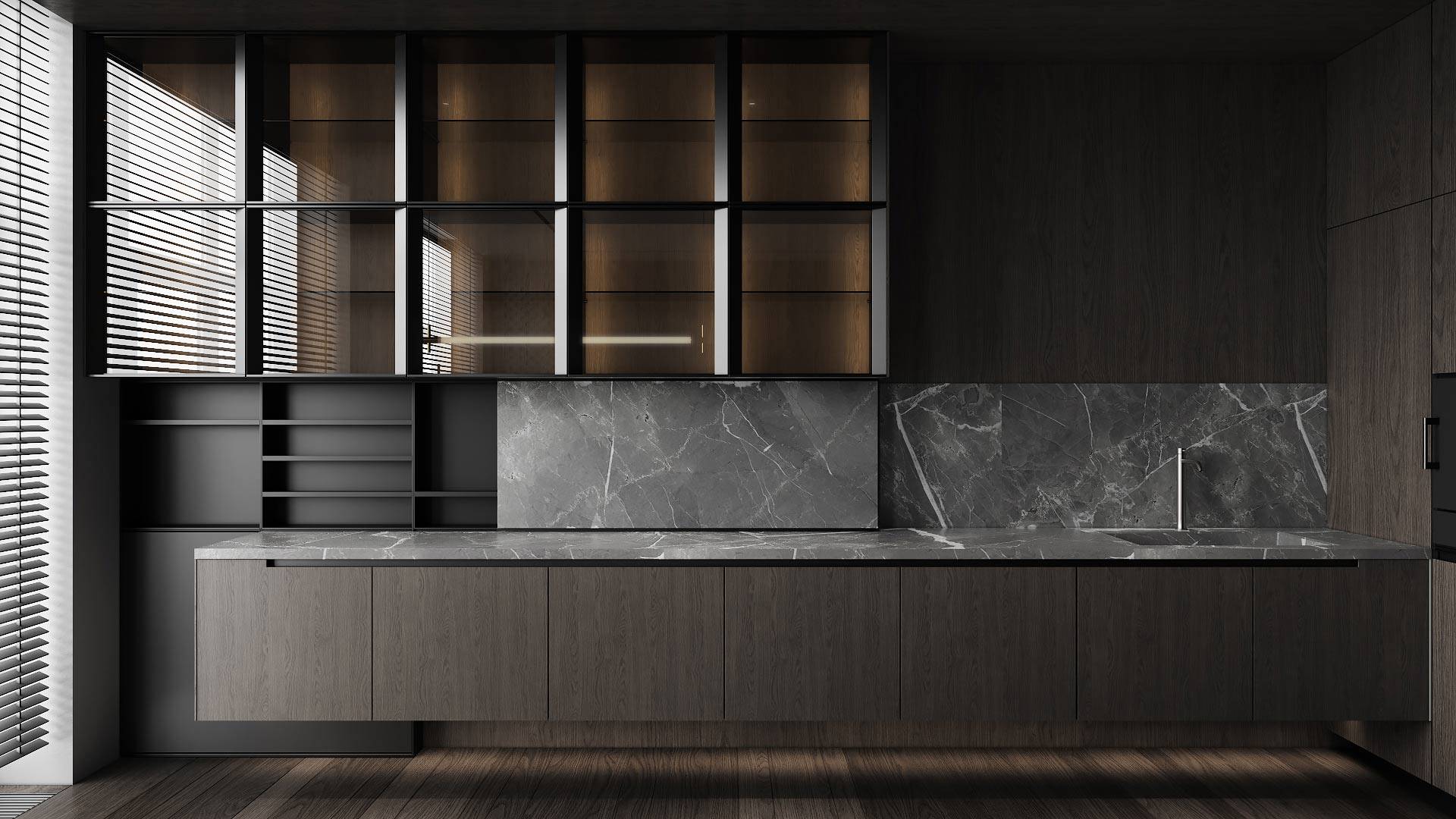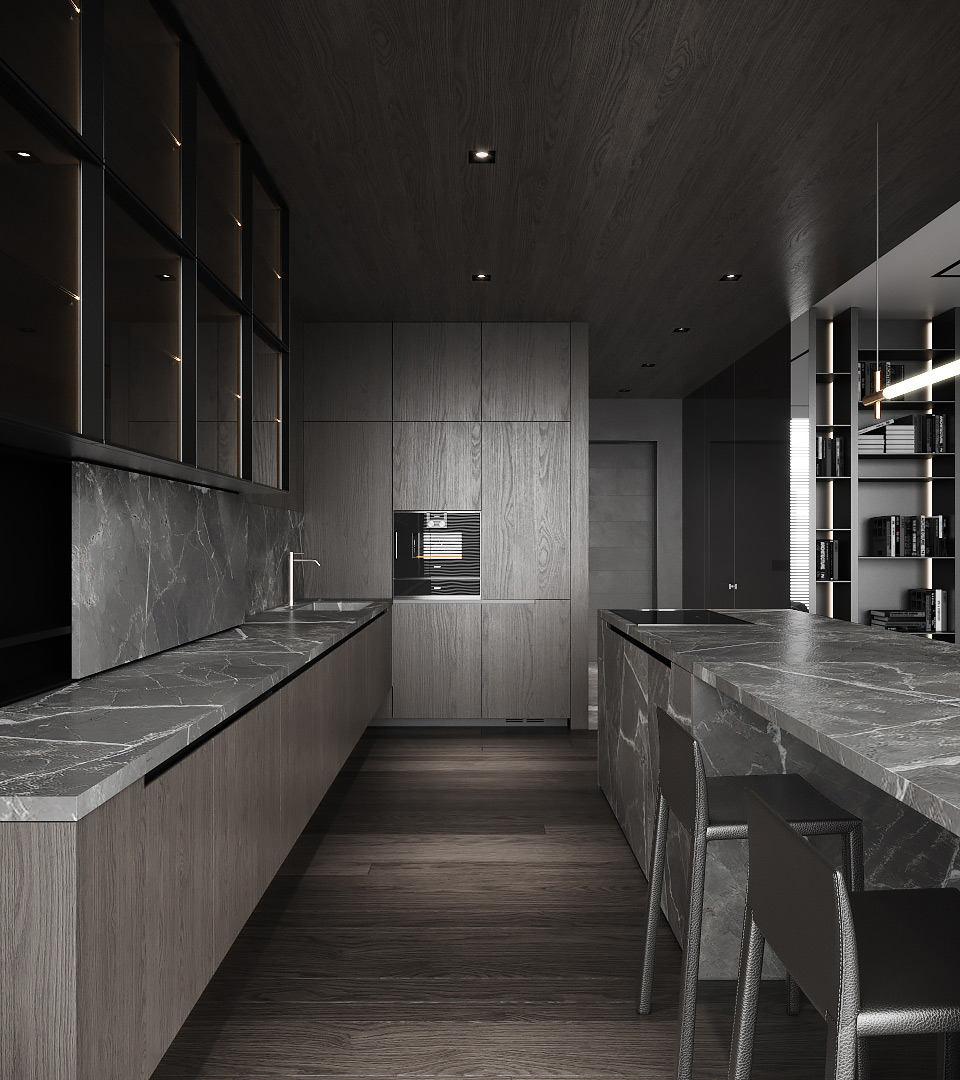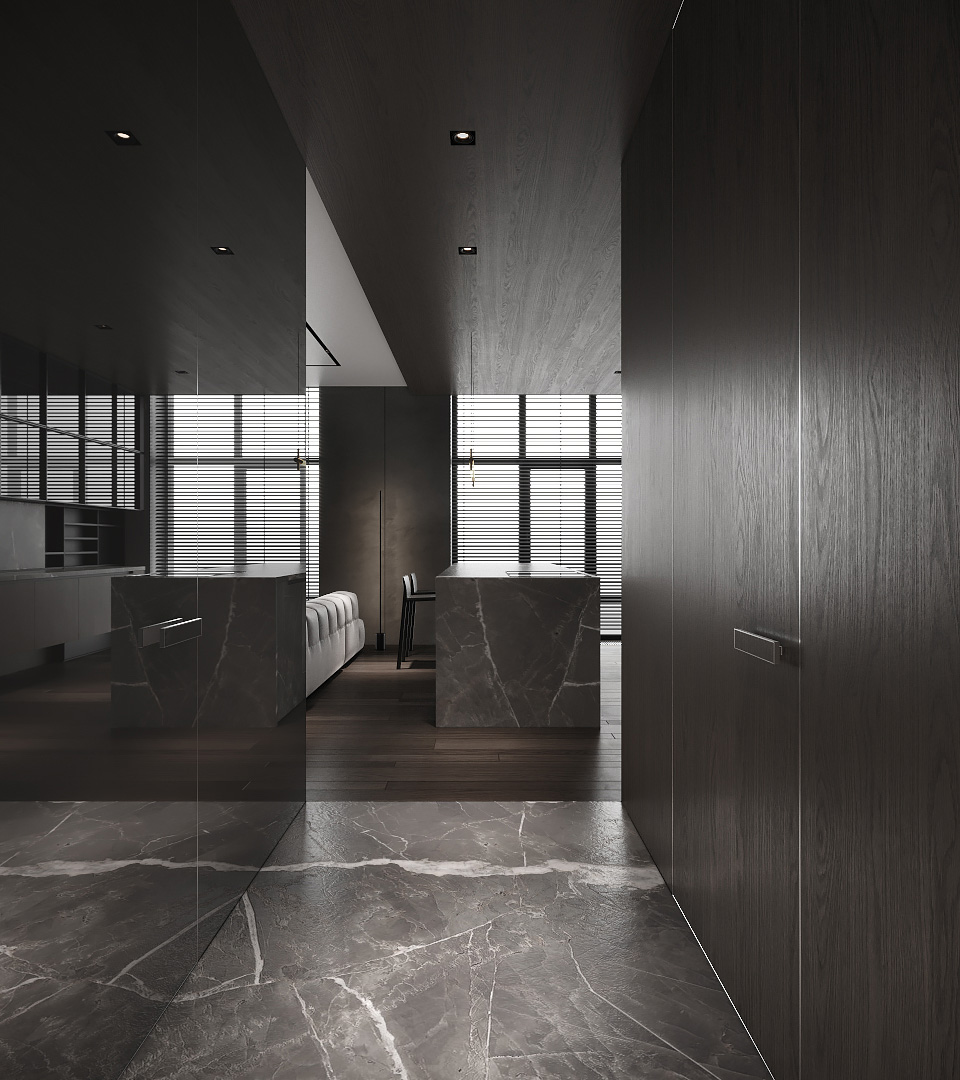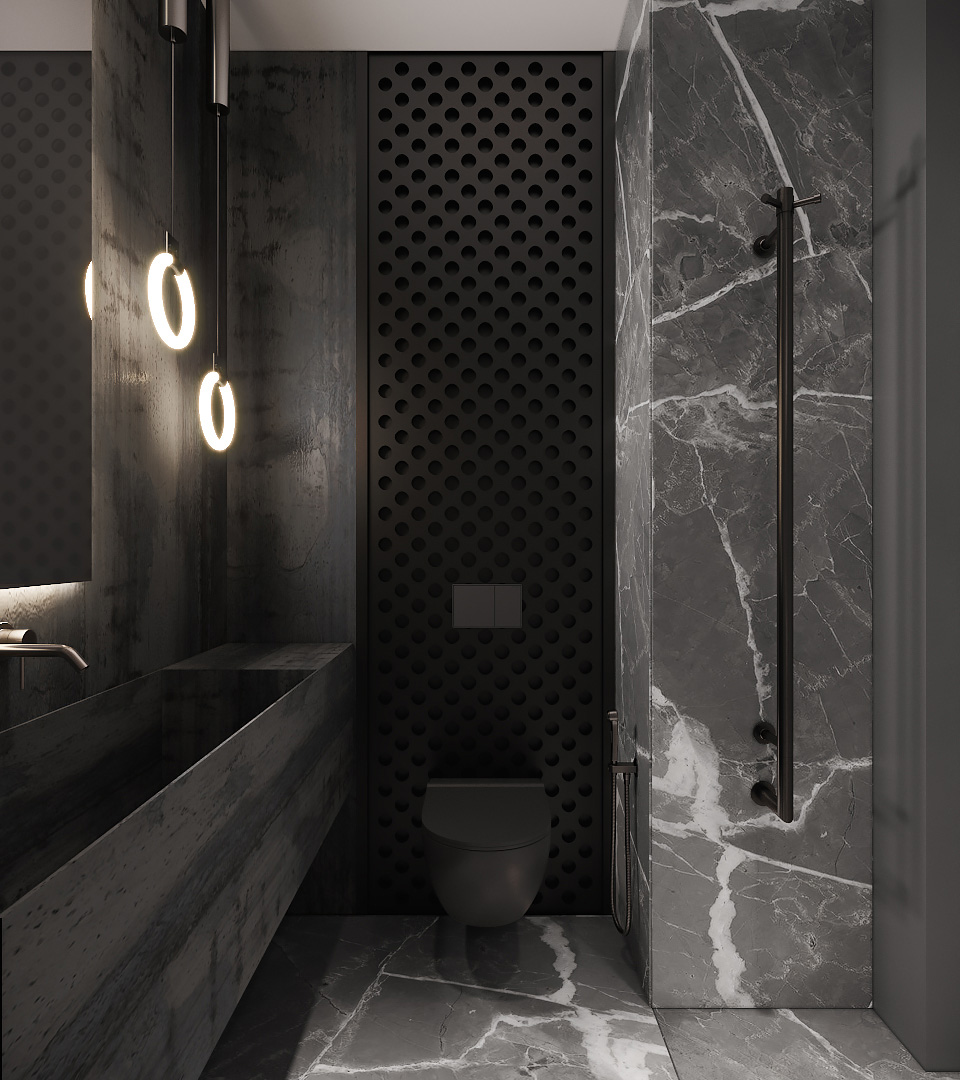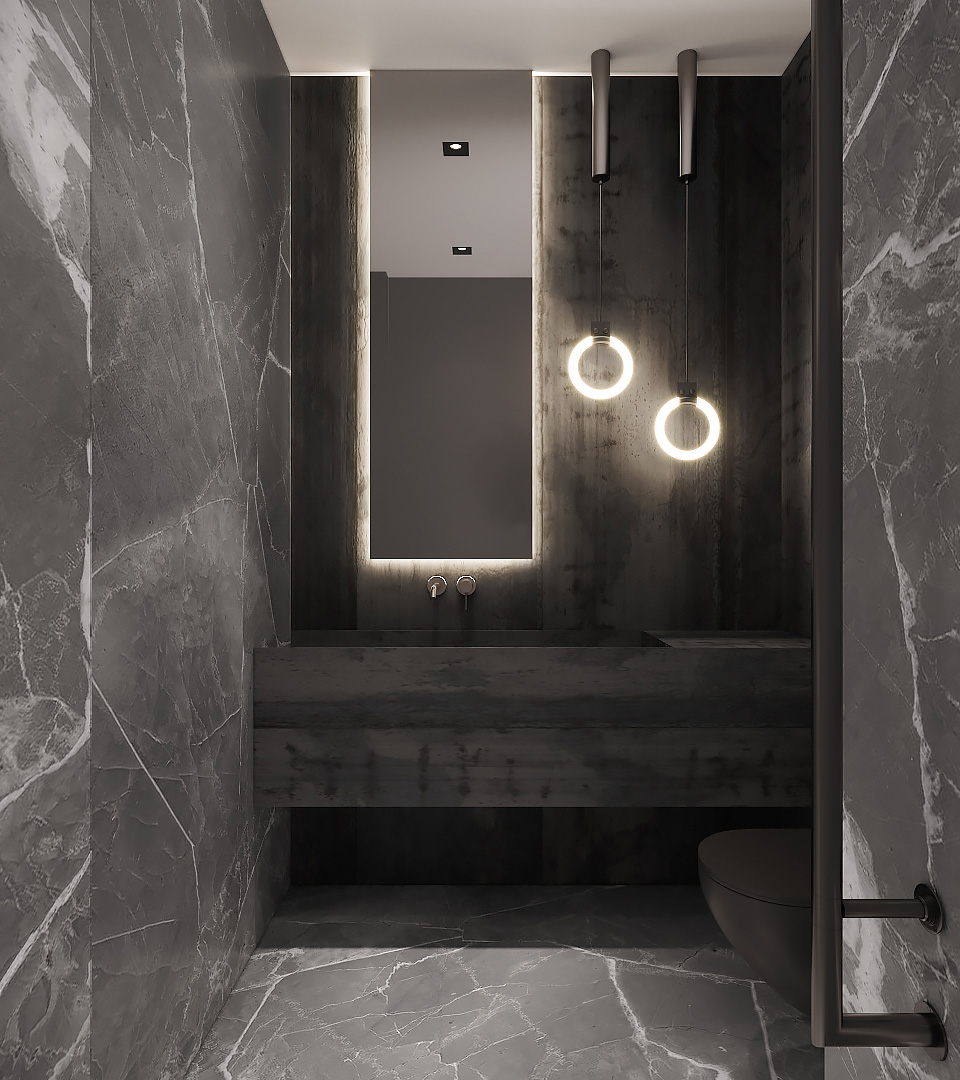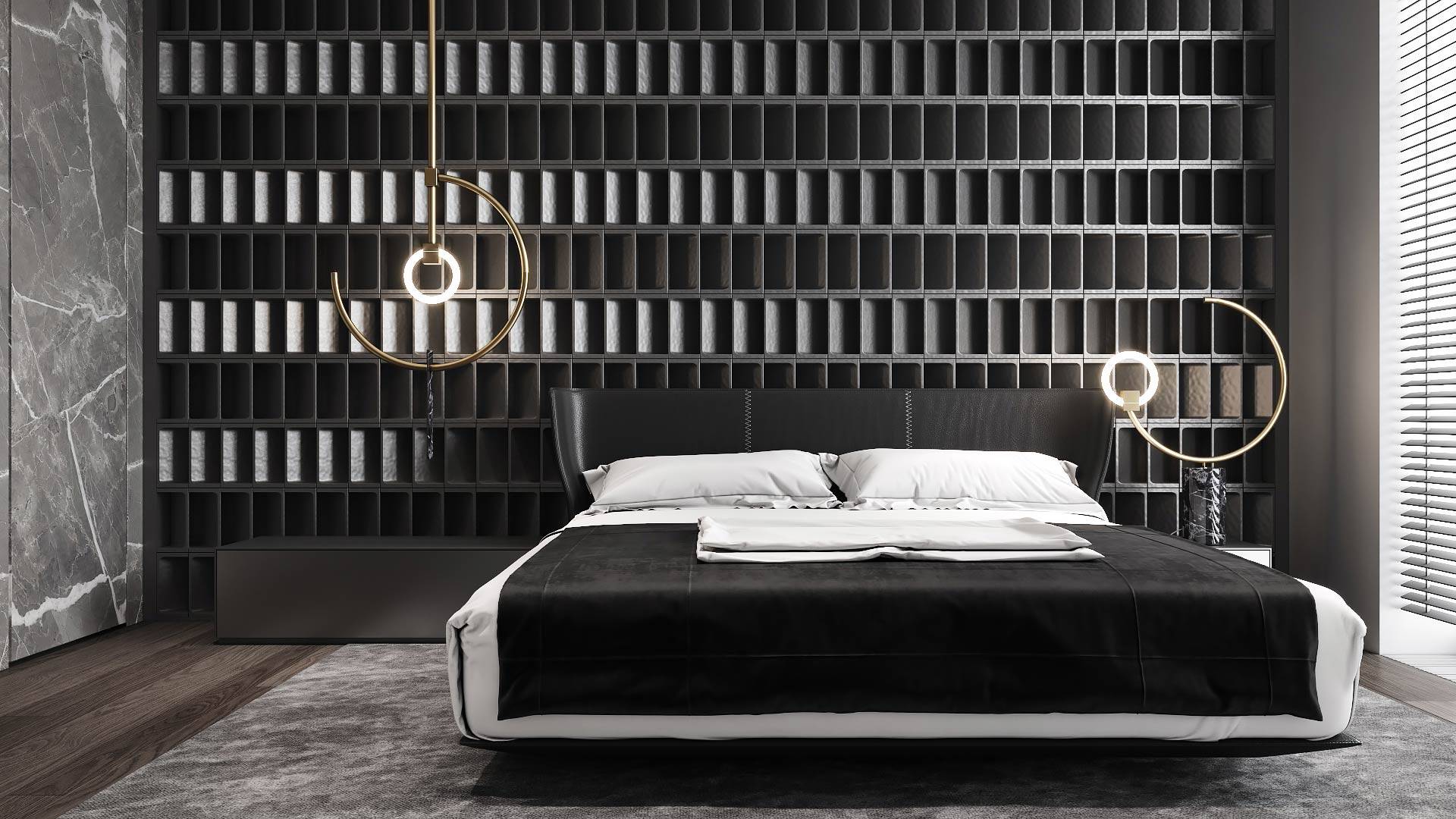 Simplicity was also our main concept for the bedroom, which is why we made an accent on one thing — the wall behind the B&B bed. It's covered in 3D Mutina tiles that look simply stunning by themselves. But when we hung the pendant lamps and switched the light on, we realized how interesting it was illumination-wise.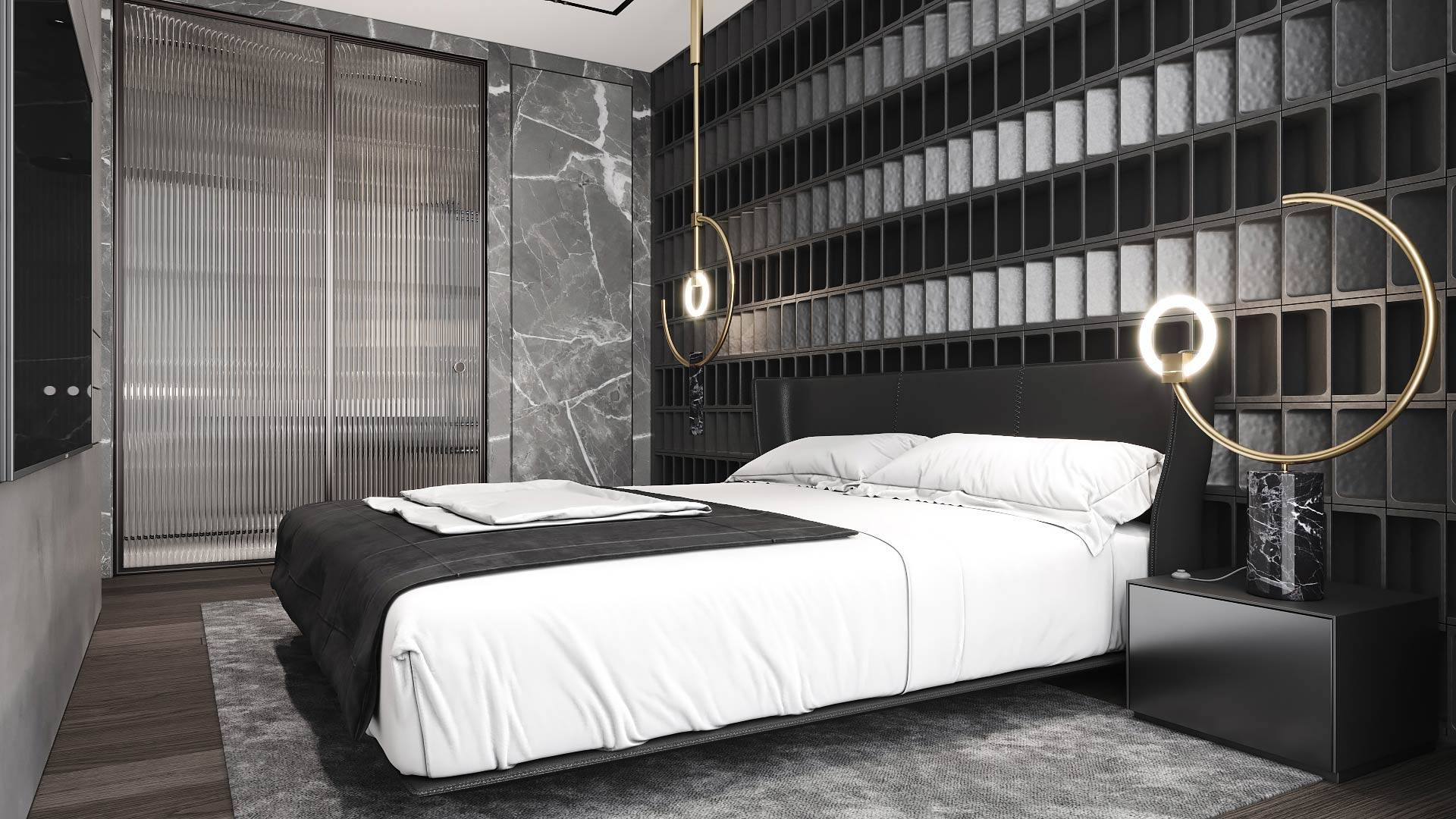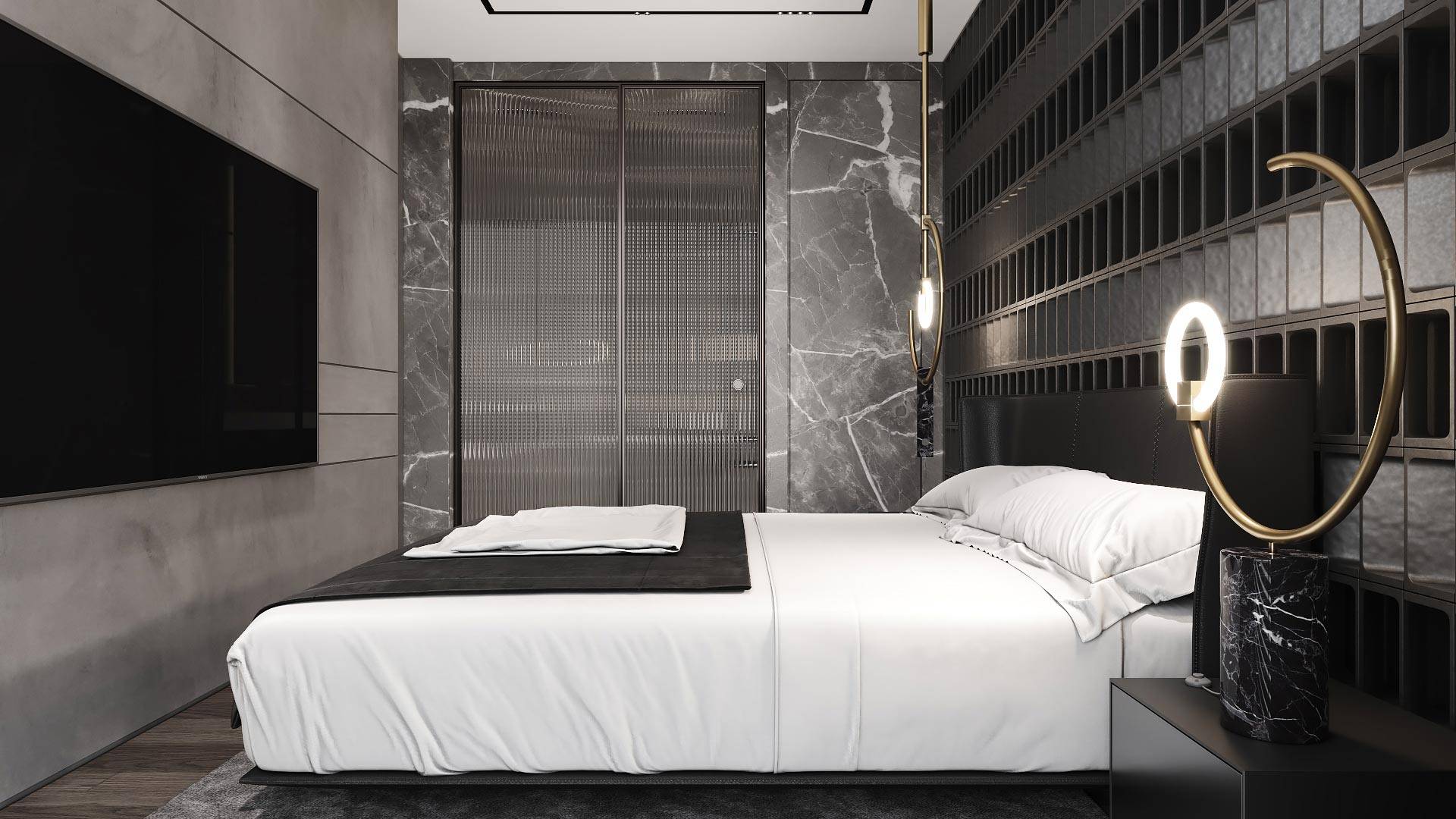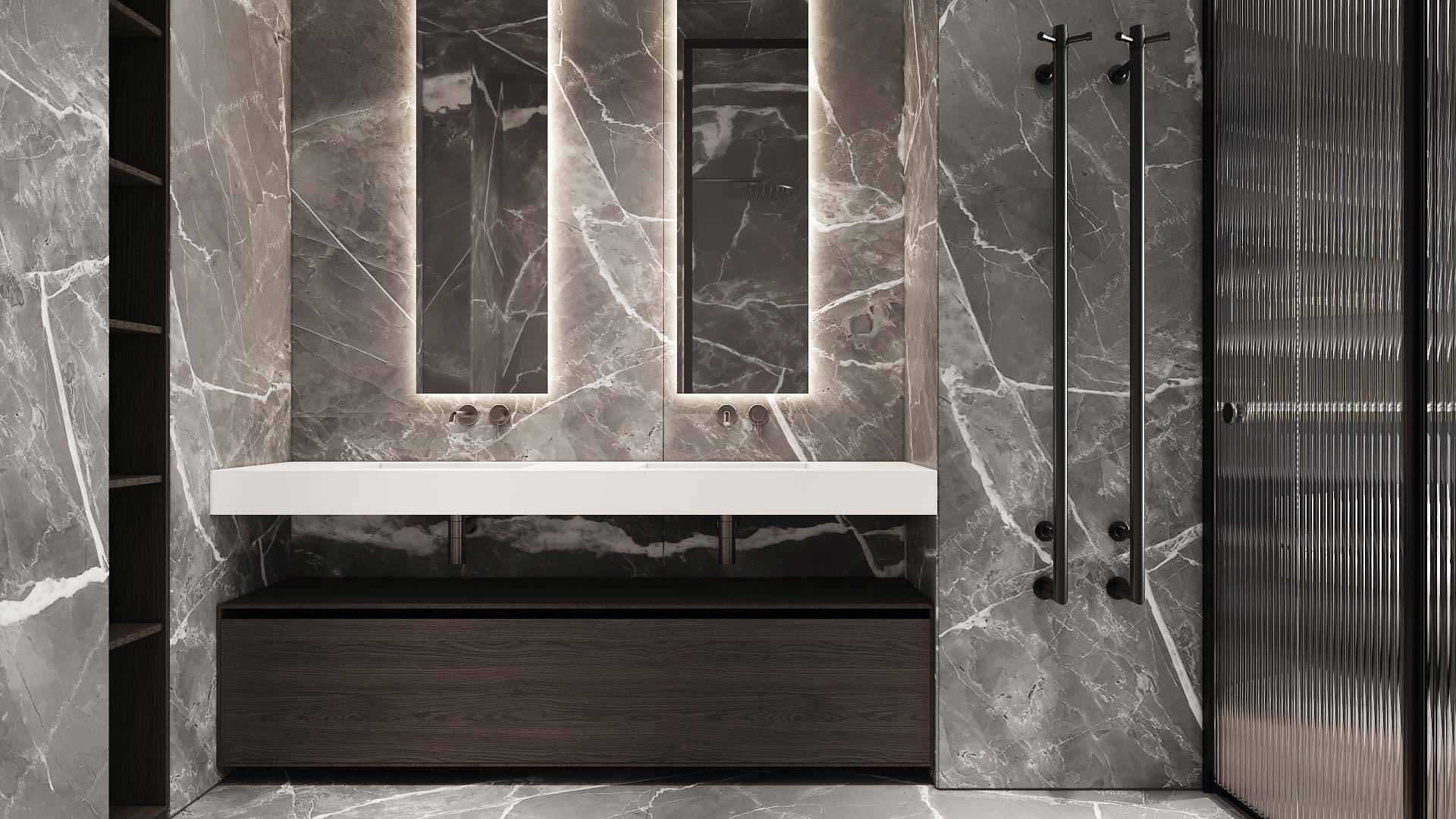 Divided from the bedroom by a toned riffled glass wall, the bathroom also translates the same simple, elegant vibe. Despite its compact size, it has everything our client needs for a comfortable living. Here you can see a lot of repetitive elements from other rooms, such as perforated metal, round pendant lighting, dark marble, and wooden elements that keep the whole look together.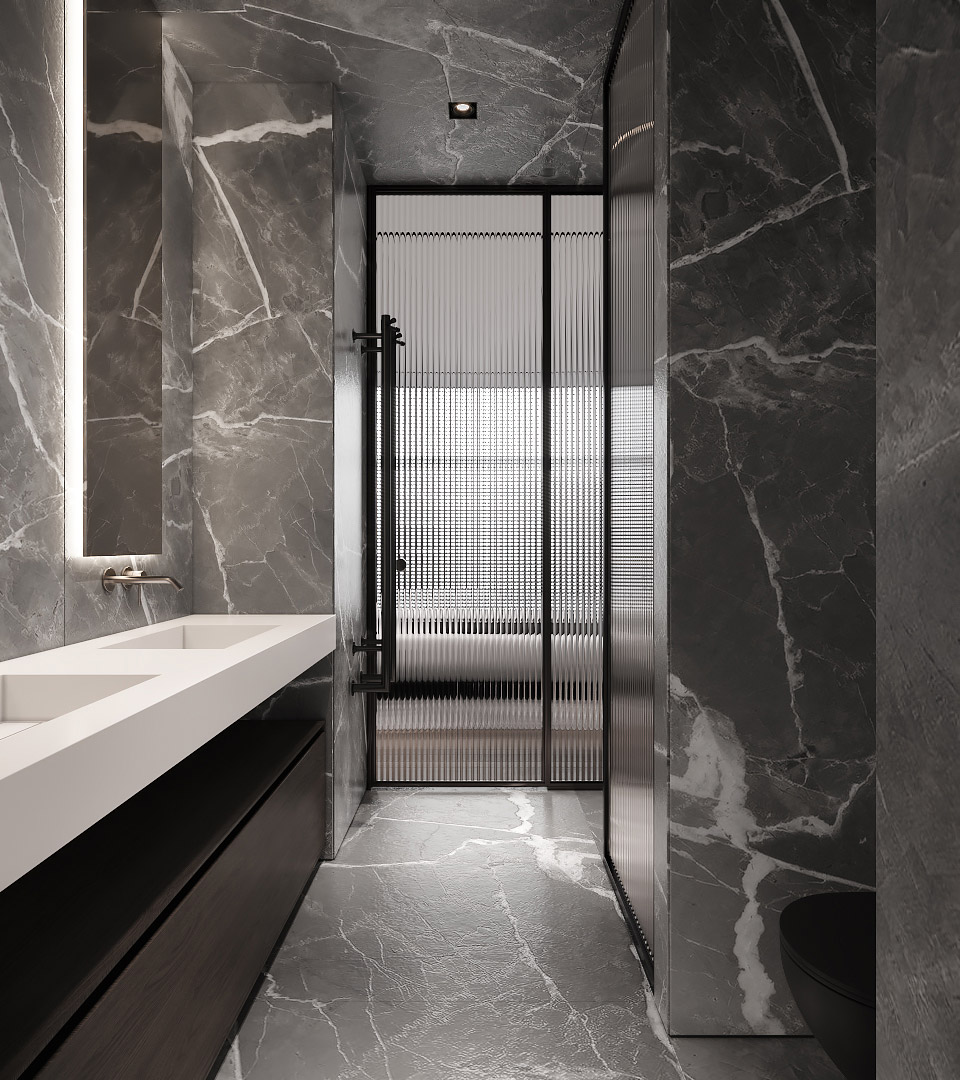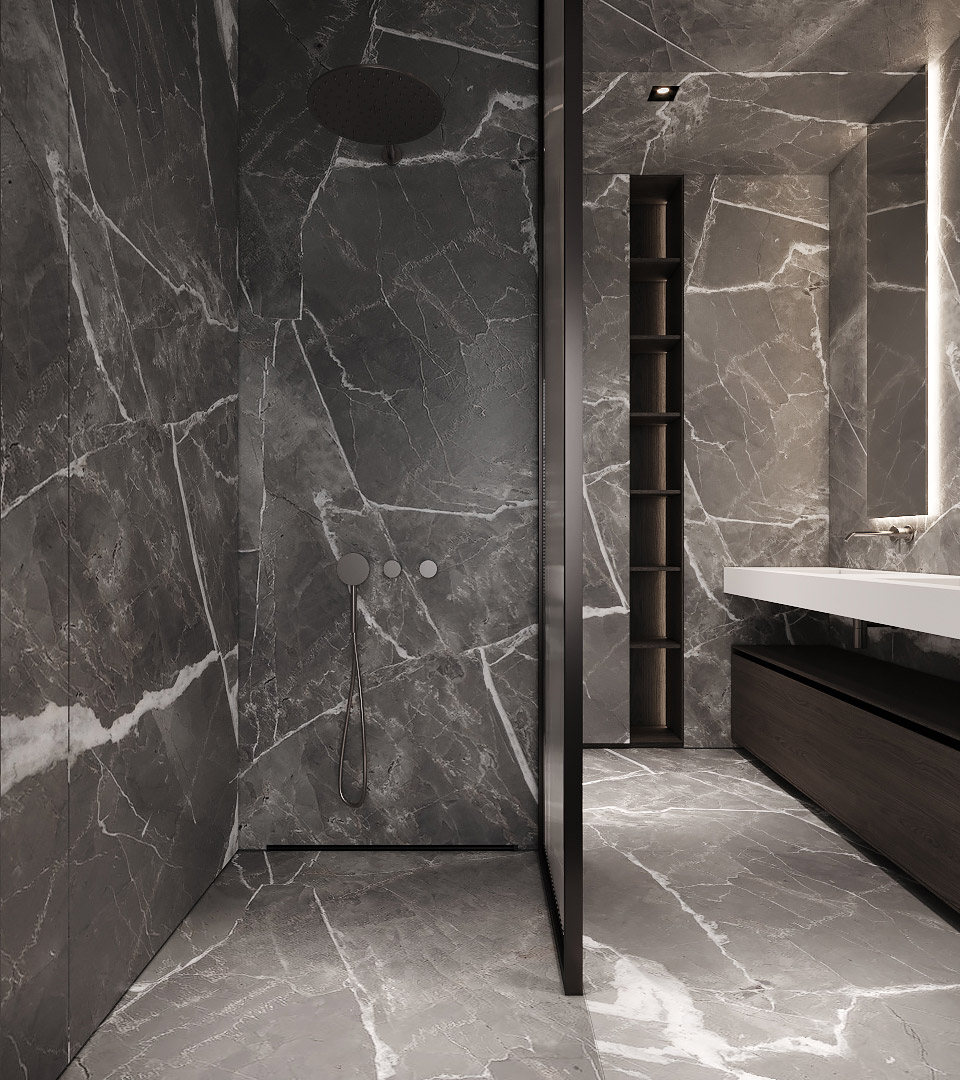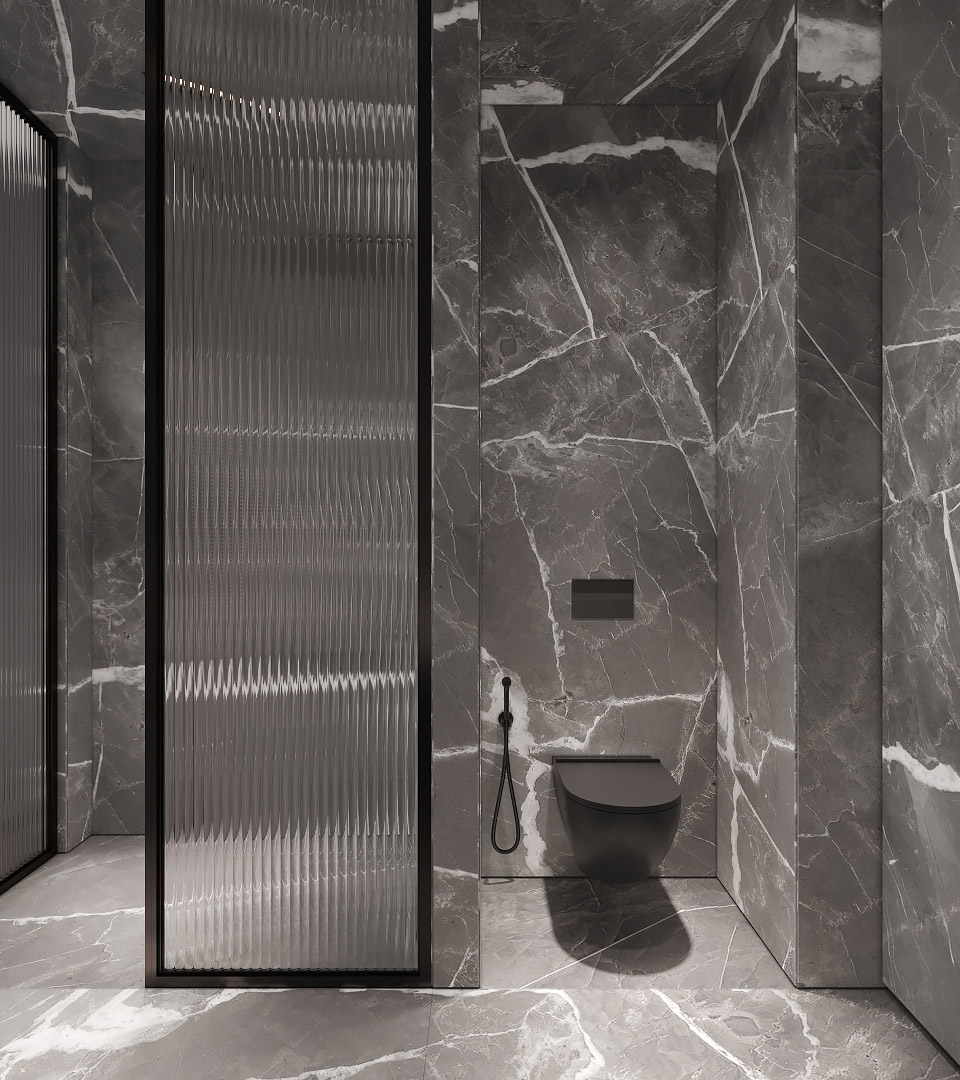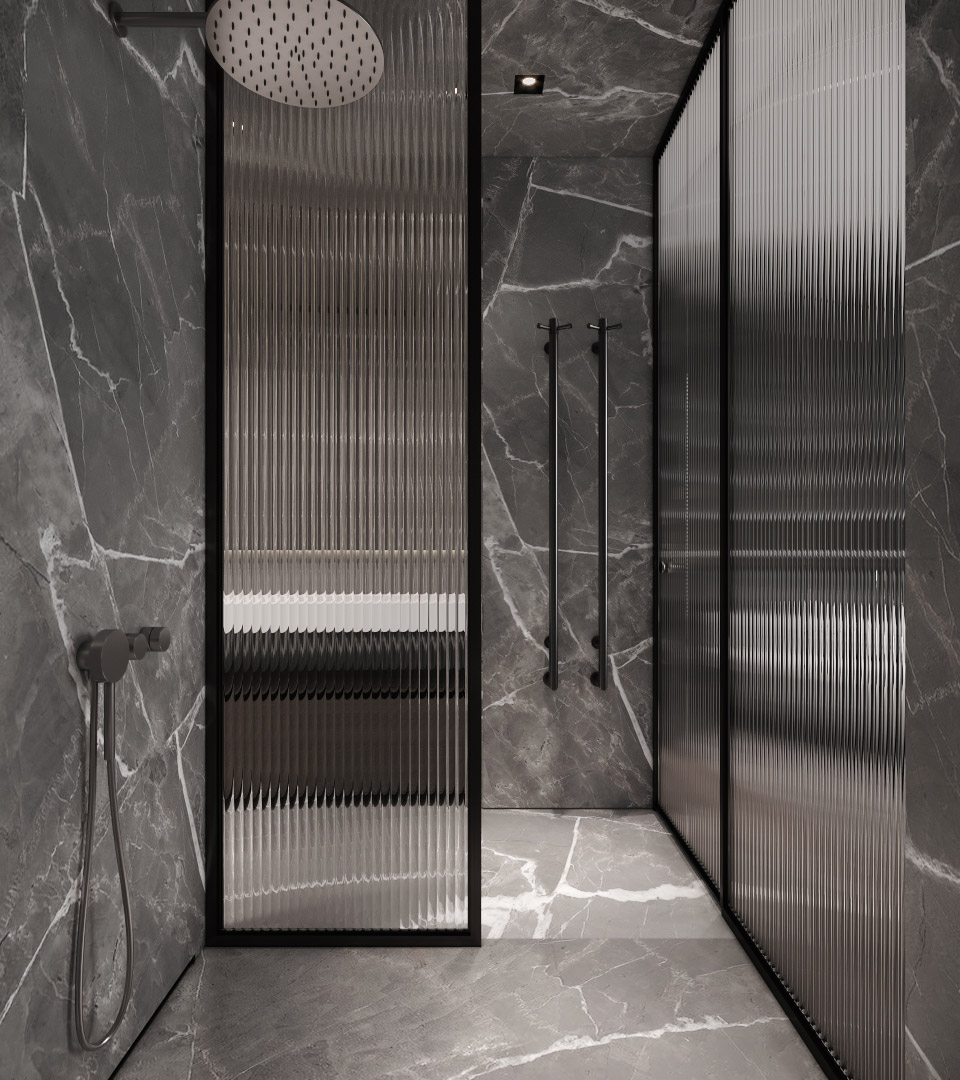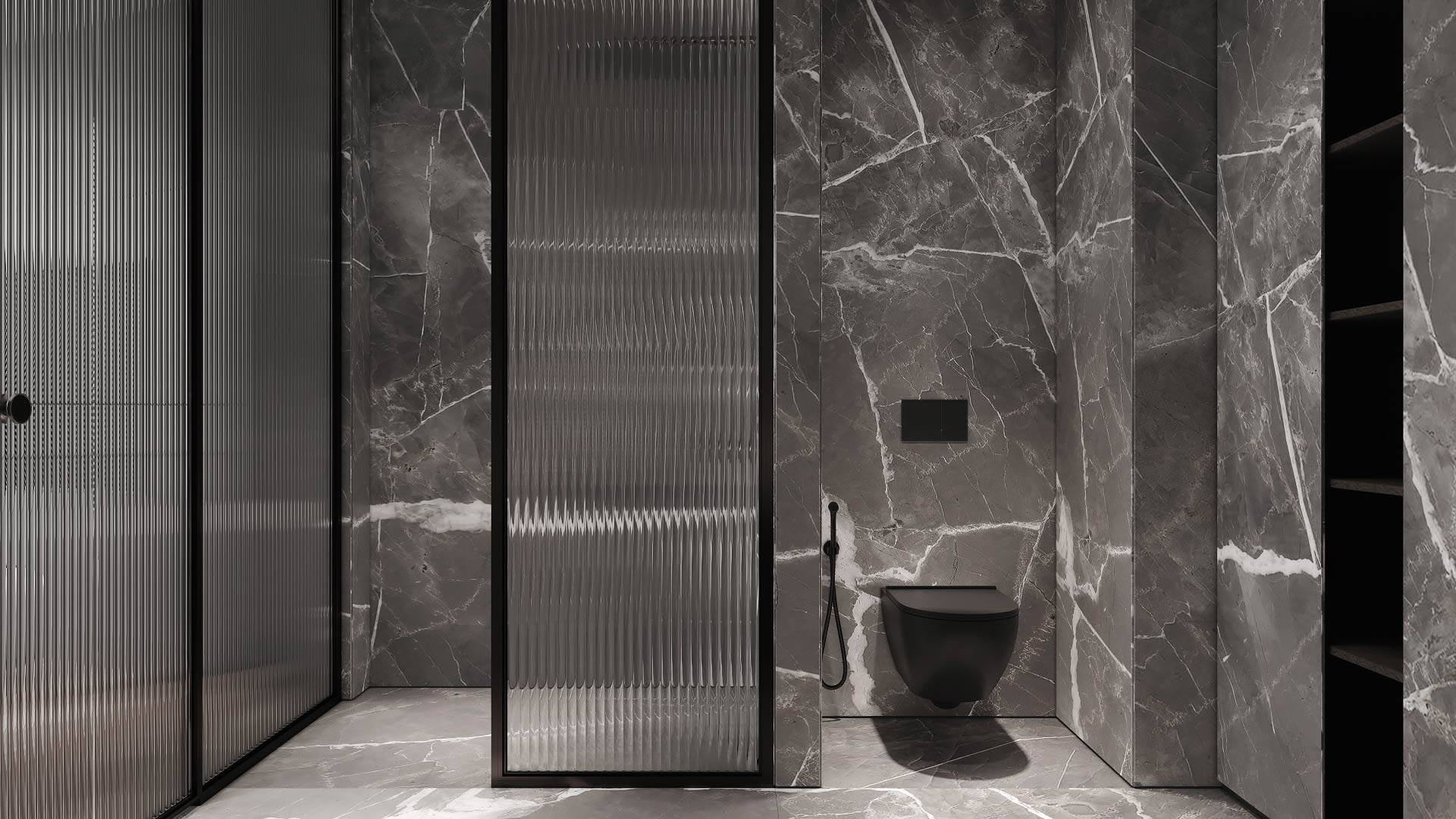 LAYOUT SOLUTION

---