IQ
-97-MO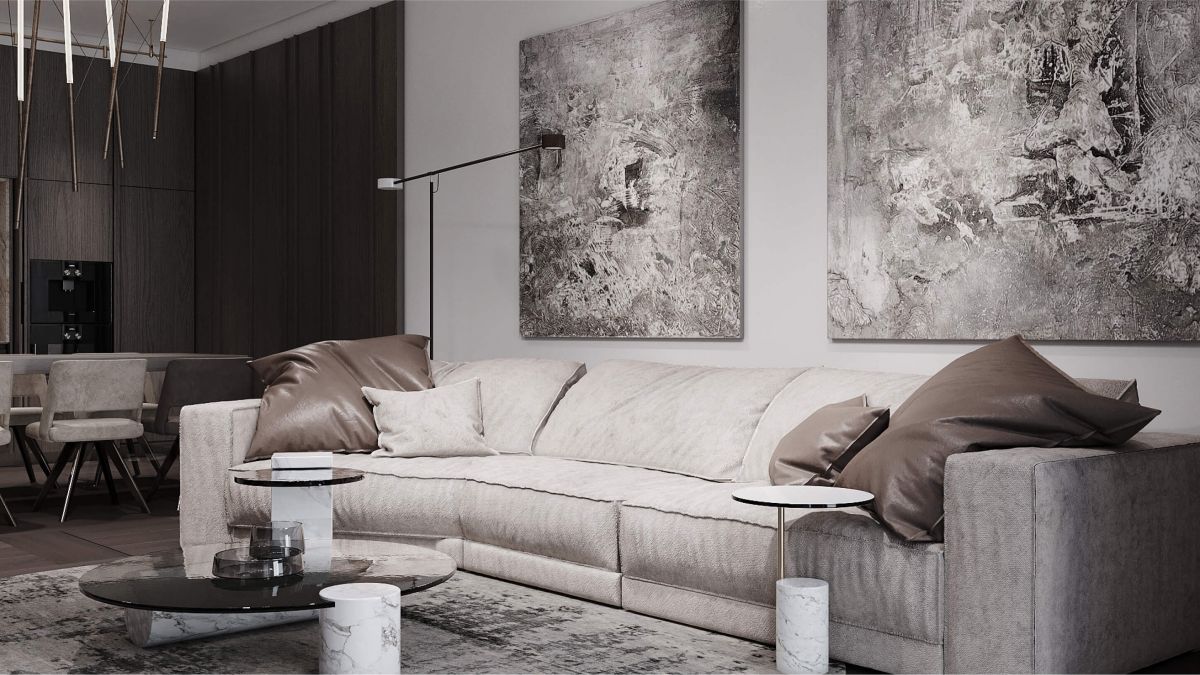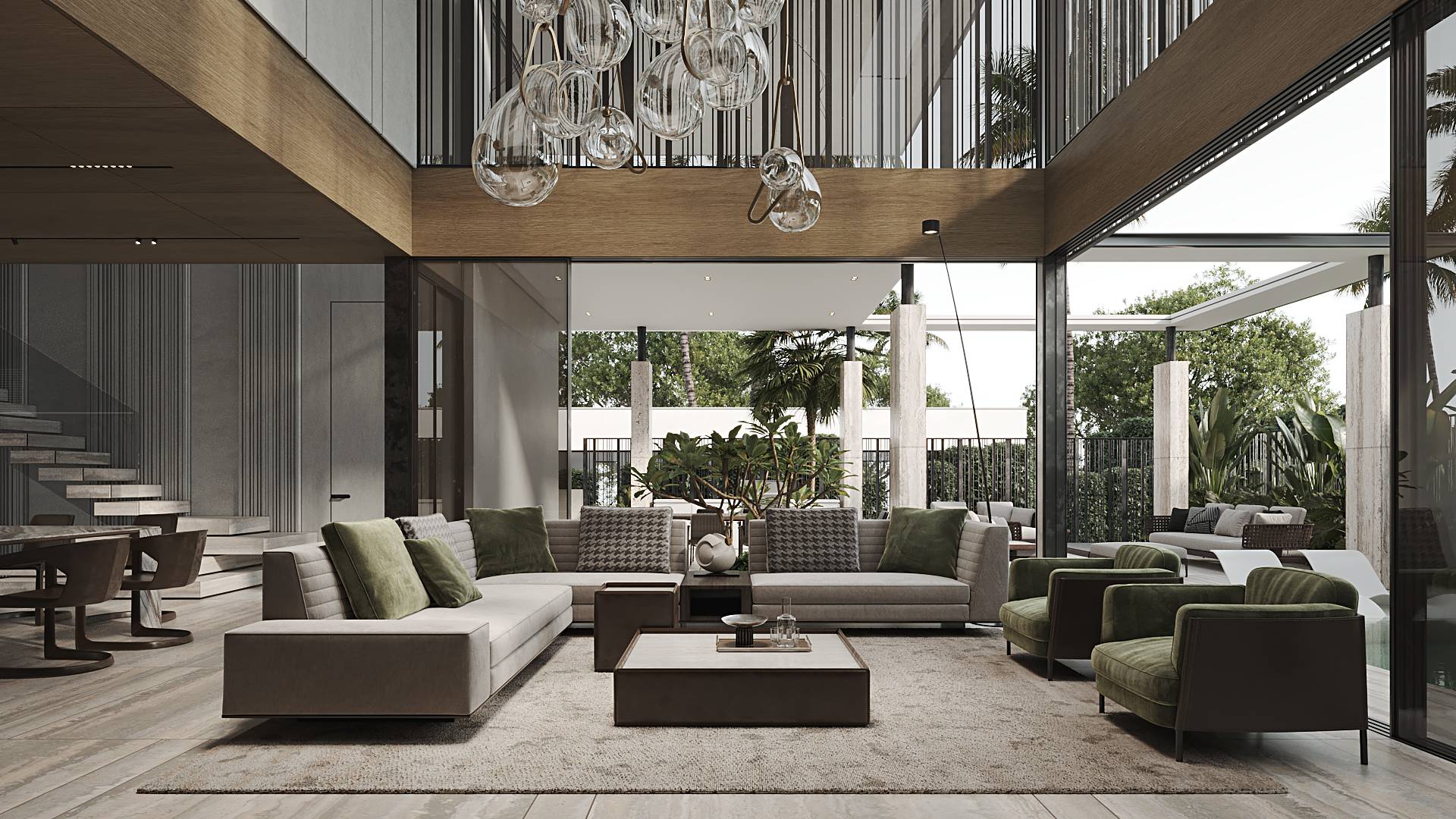 ---
Human character is complex and never one-dimensional, and that's what we manifest in our projects through design. This three-bedroom apartment in the center of Munich is no exception. We combined the contrasting colors, soothing elements, straightforward forms, and delicate details to represent our client's character. And you can guess who you'll meet after you open the door.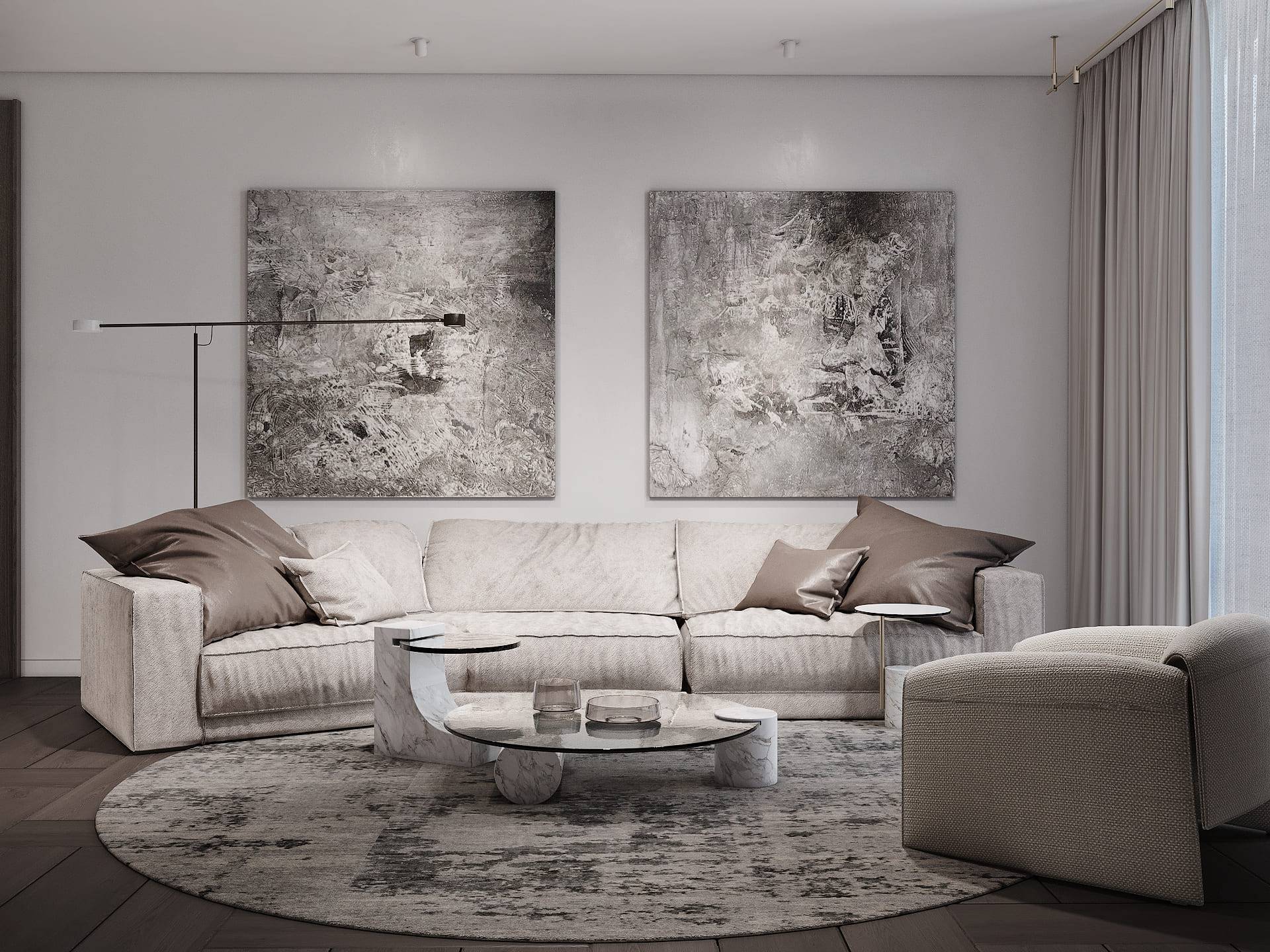 Just like a person demonstrates different character traits, the interior exhibits various forms in the decor and furniture. In both cases, it's all about revealing the depth and authenticity. In this living room, we decided to mix a rounded, textured rug and a semi-circular Baxter sofa with a square abstract diptych. Even though the objects contrast form-wise, they are united by the textural element that creates harmony.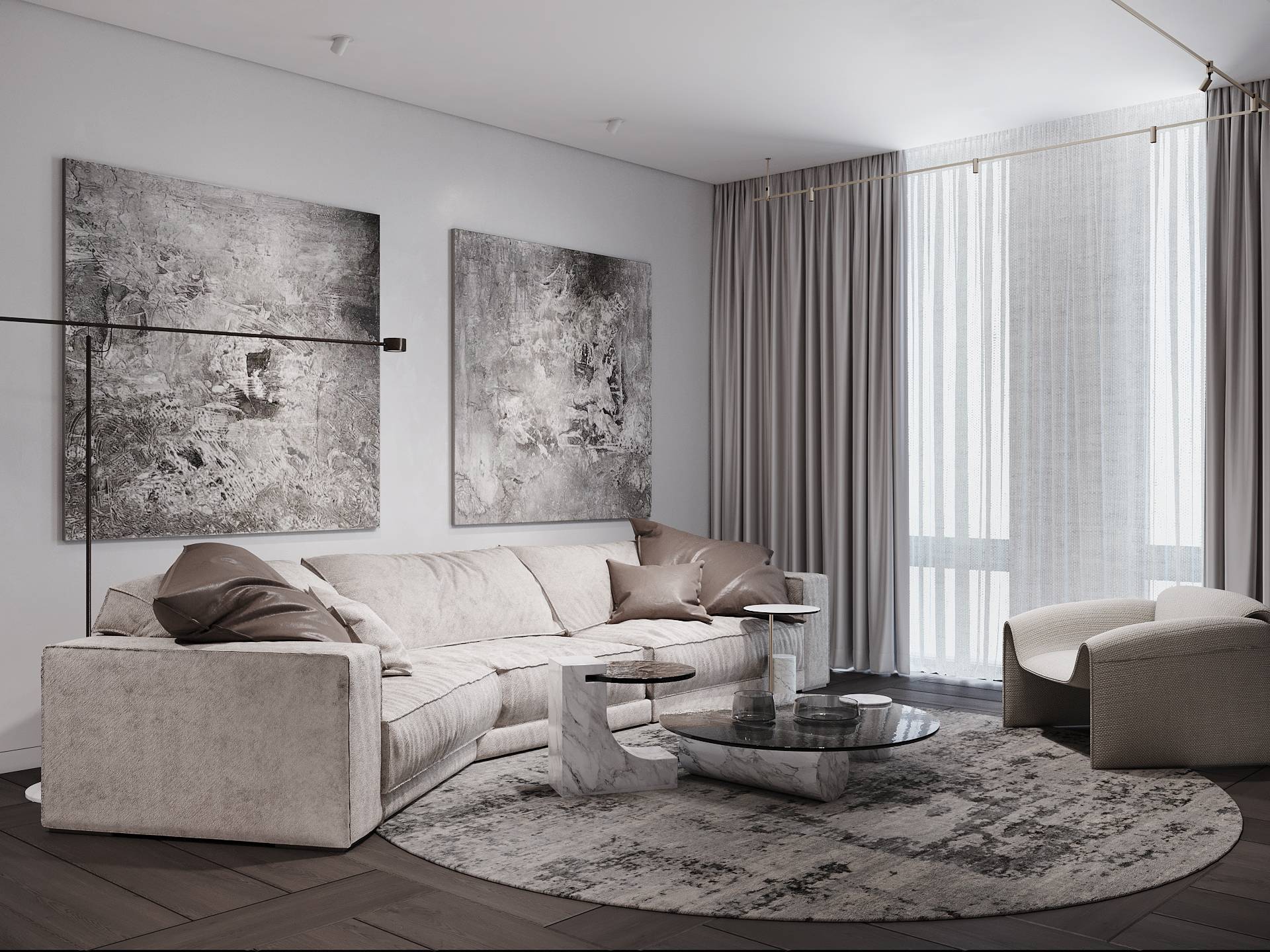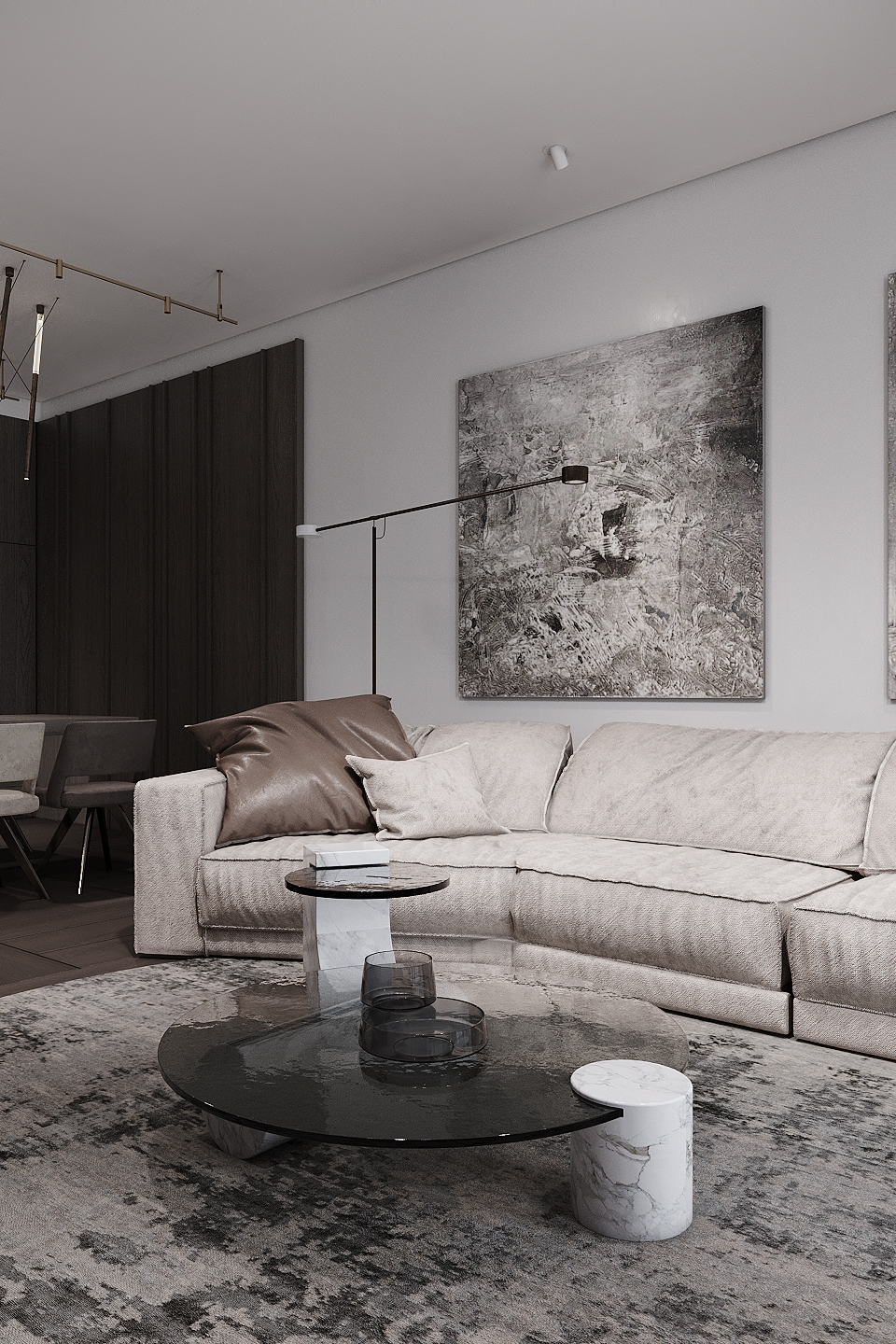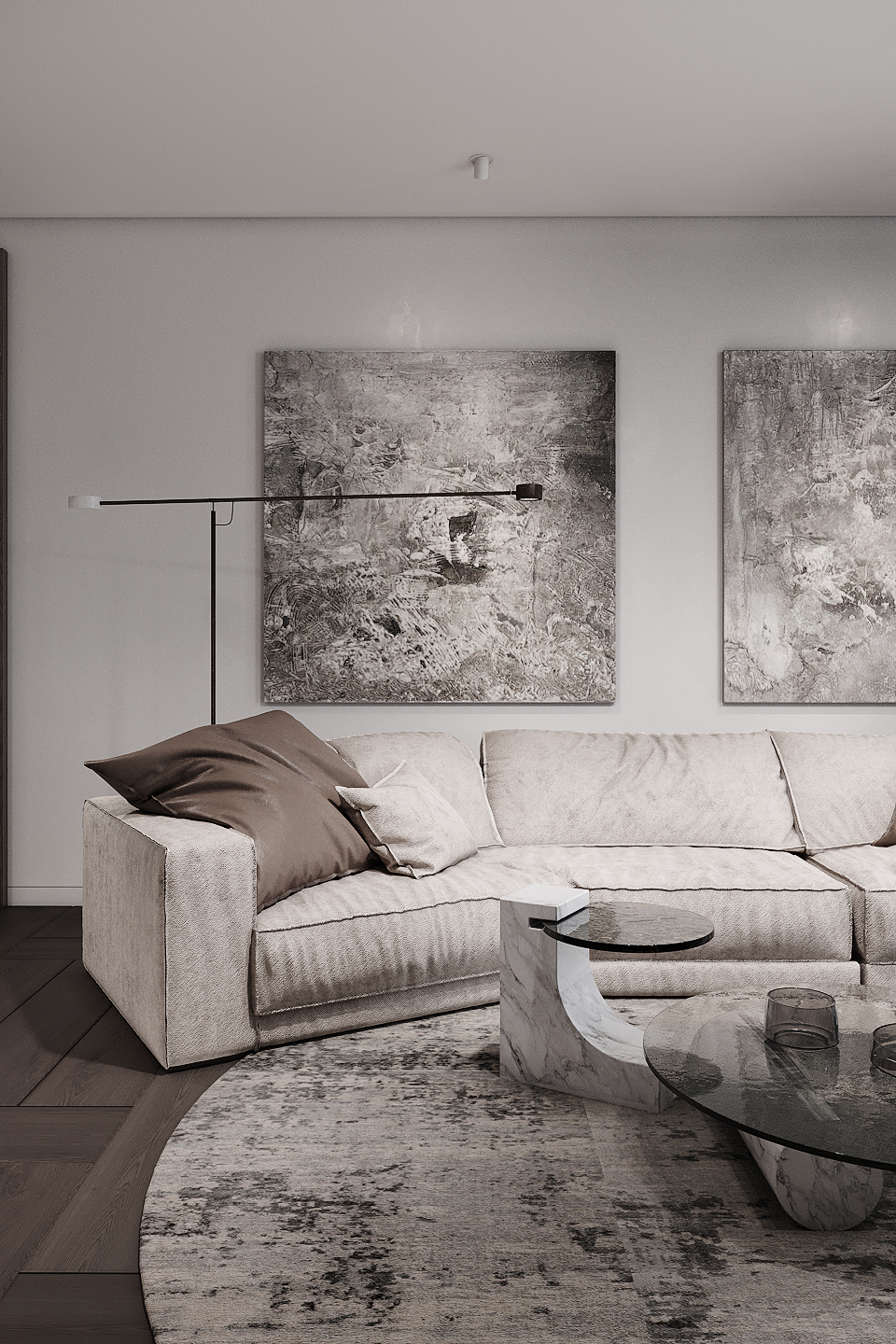 The ensemble of Baxter coffee tables mesmerizes with its refined composition of material and geometry – no wonder we placed it in the middle of the room. These marble cylinders and toned glass look incredibly chic within the walls covered in wooden panels and decorative plasterboard.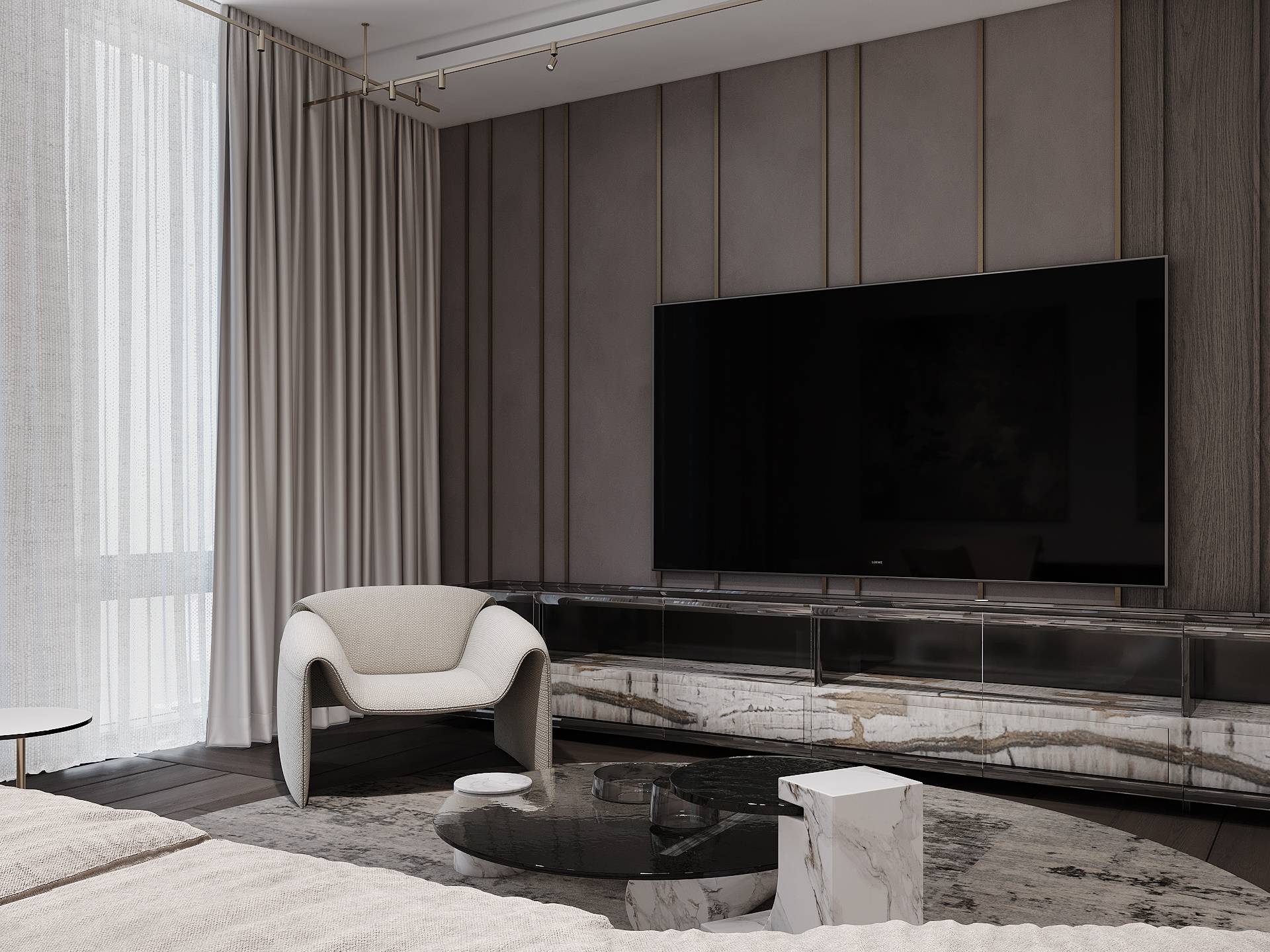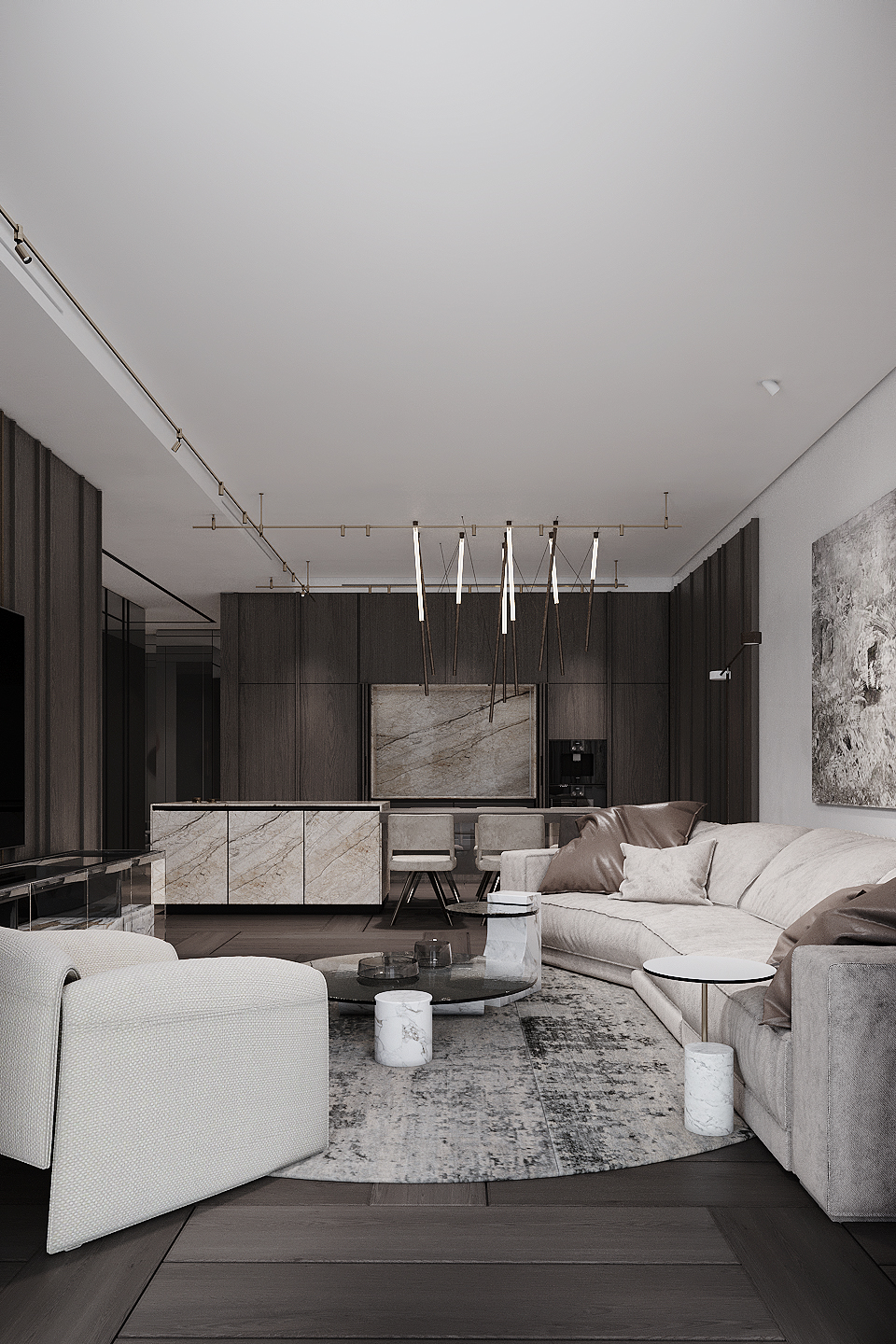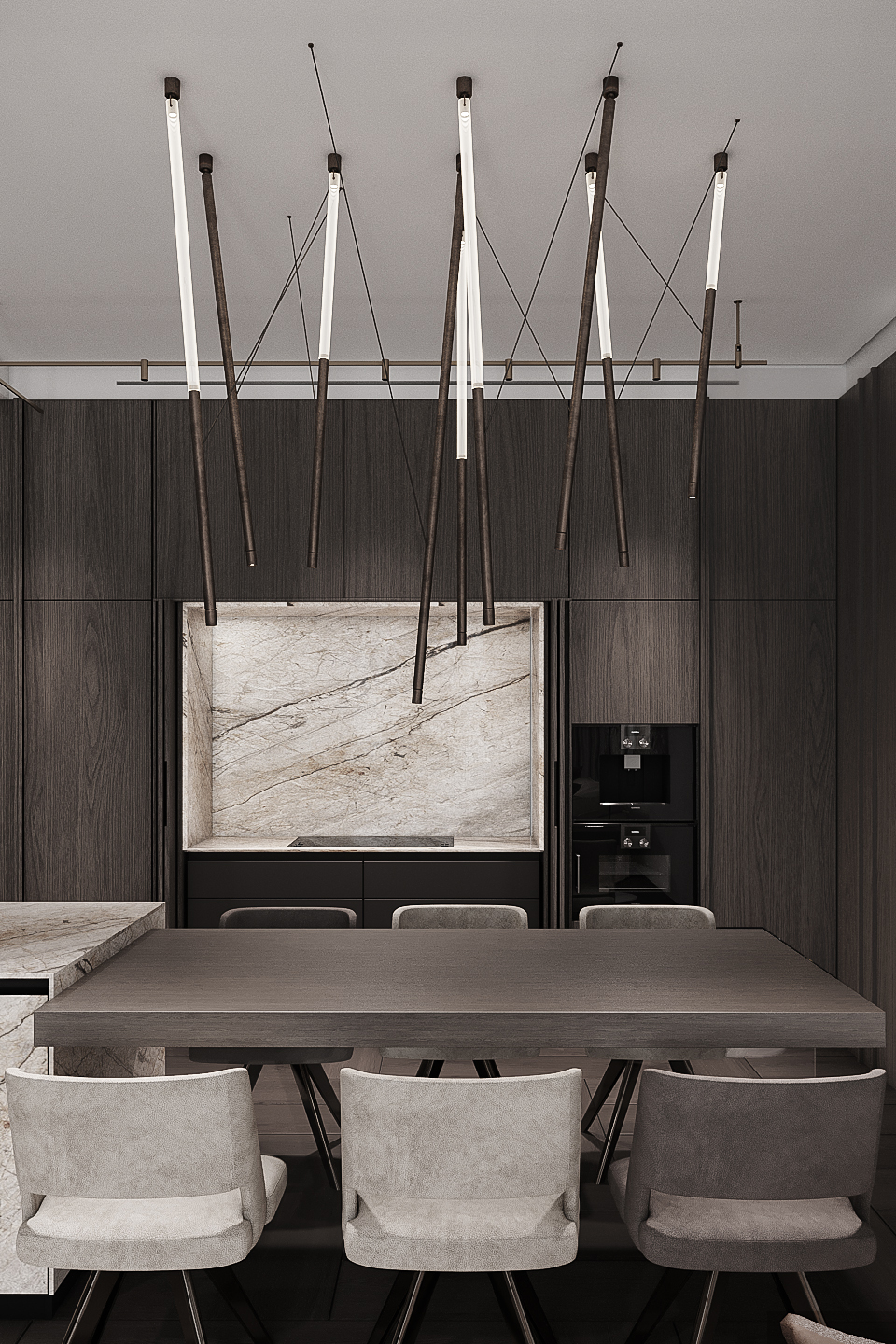 Veneered wooden panels and contrasting natural stone were our primary materials for creating a reserved kitchen look. The island in patterned marble has an attached dining table, forming a place where one can prepare, serve, and eat food. We chose an extravagant Henge chandelier to mark the center spot and support the track lighting we used to emphasize the architecture.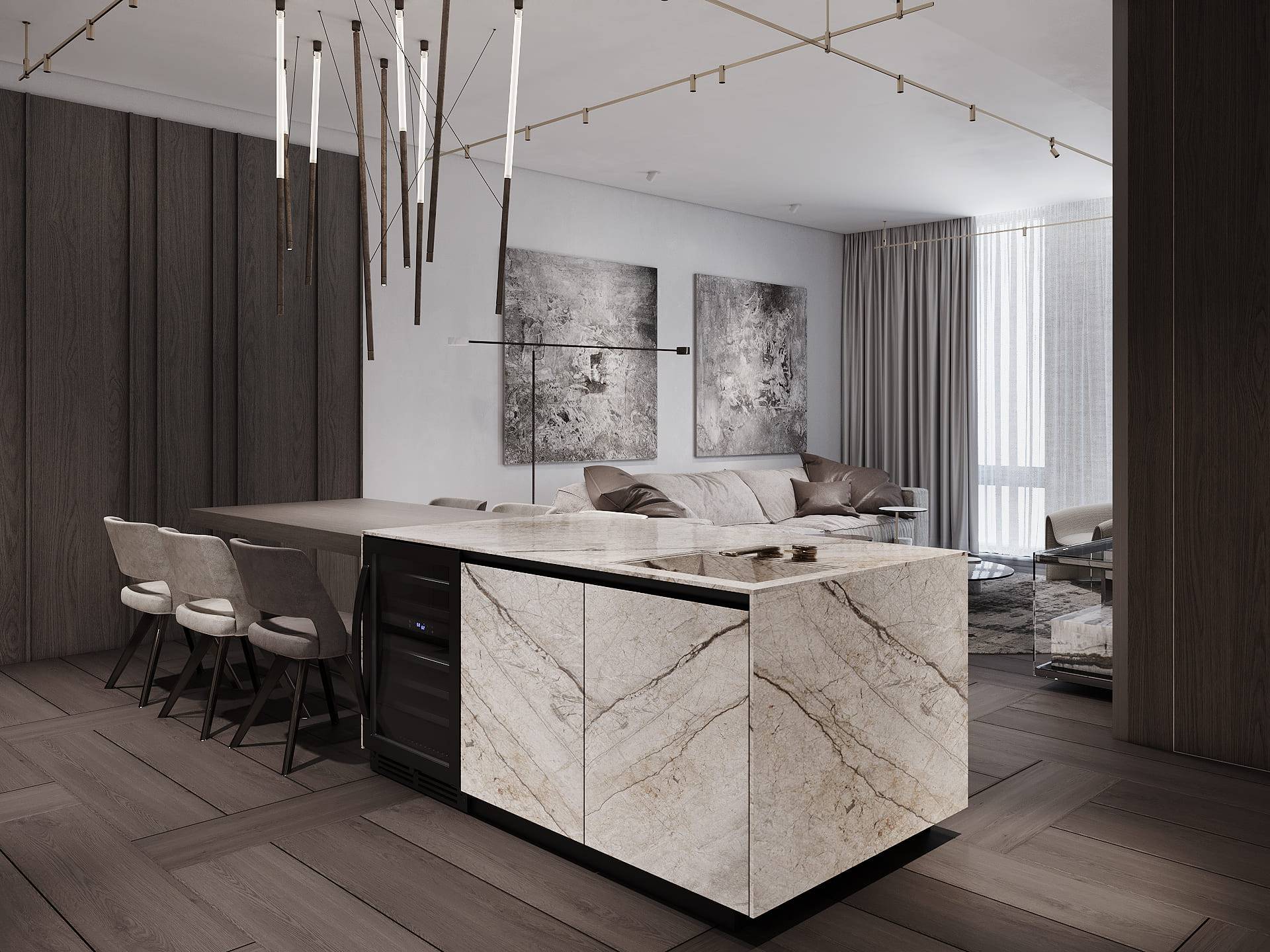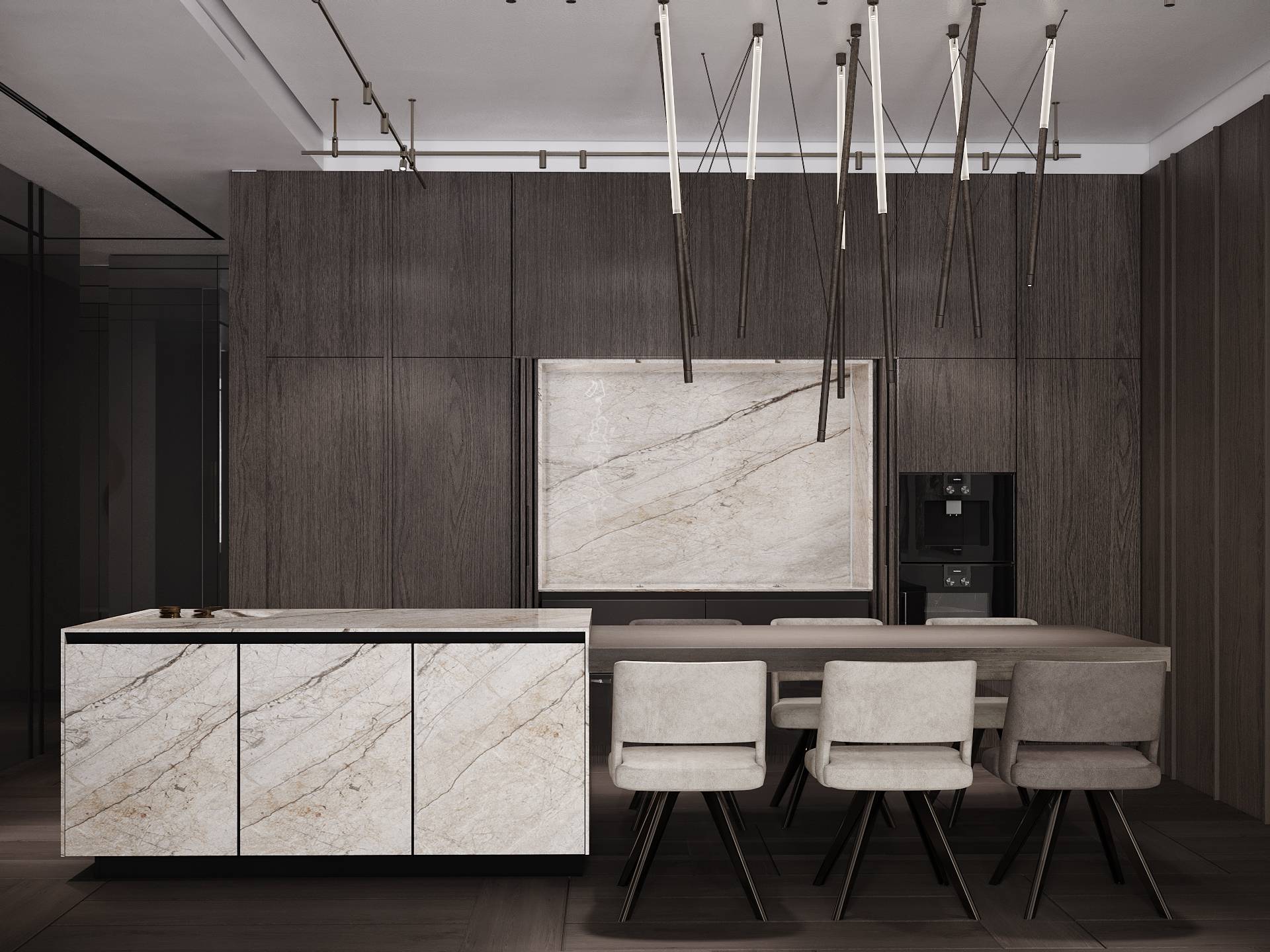 As soon as you walk into this apartment, you'll understand what awaits you further when you have a look at the entrance group. You'll see the same parquet flooring, built-in storage covered with veneered wood, accent lighting, and mirror panels. The rest of the apartment isn't different in terms of the colors, yet their different proportions add a unique atmosphere to each room.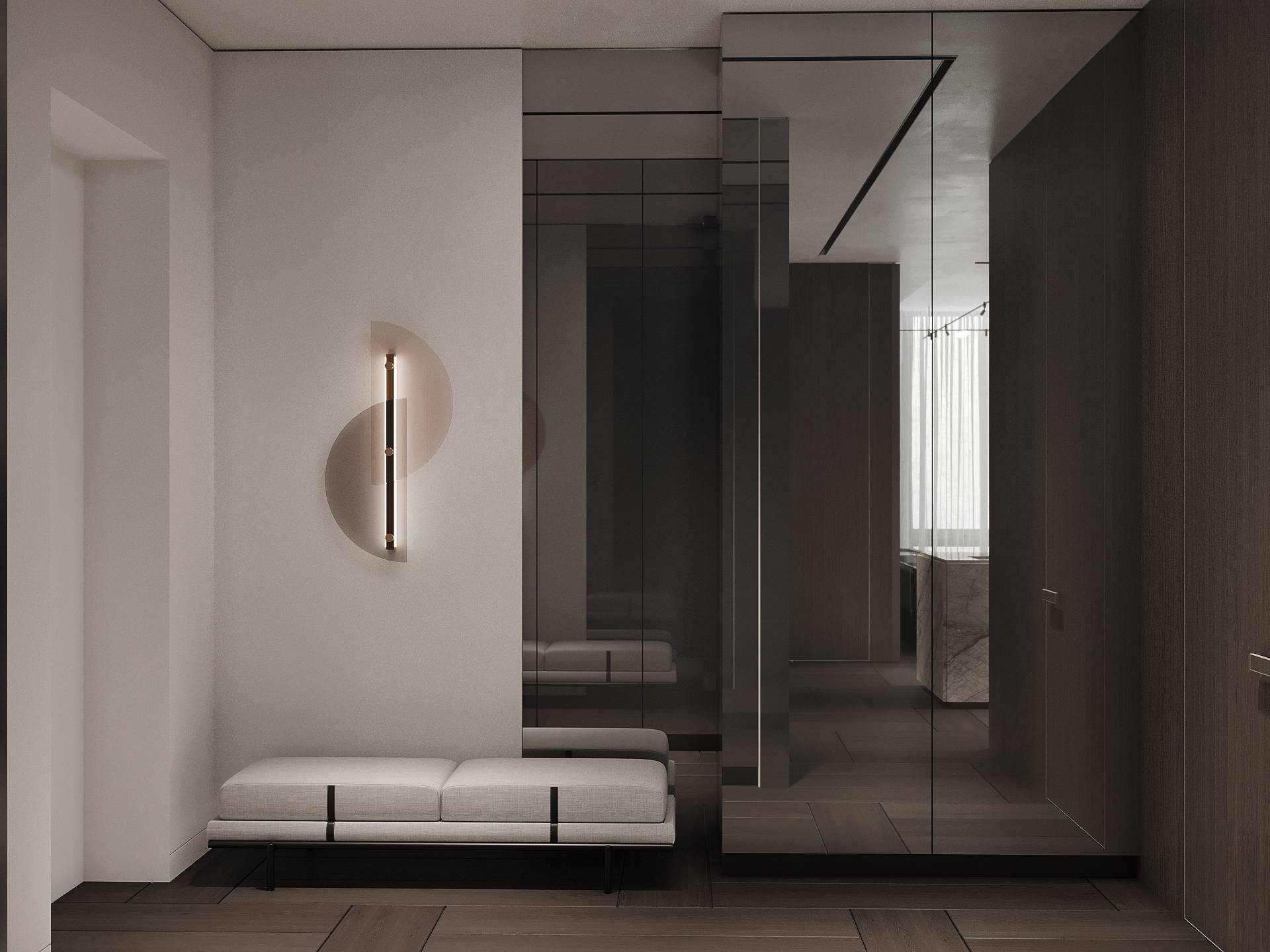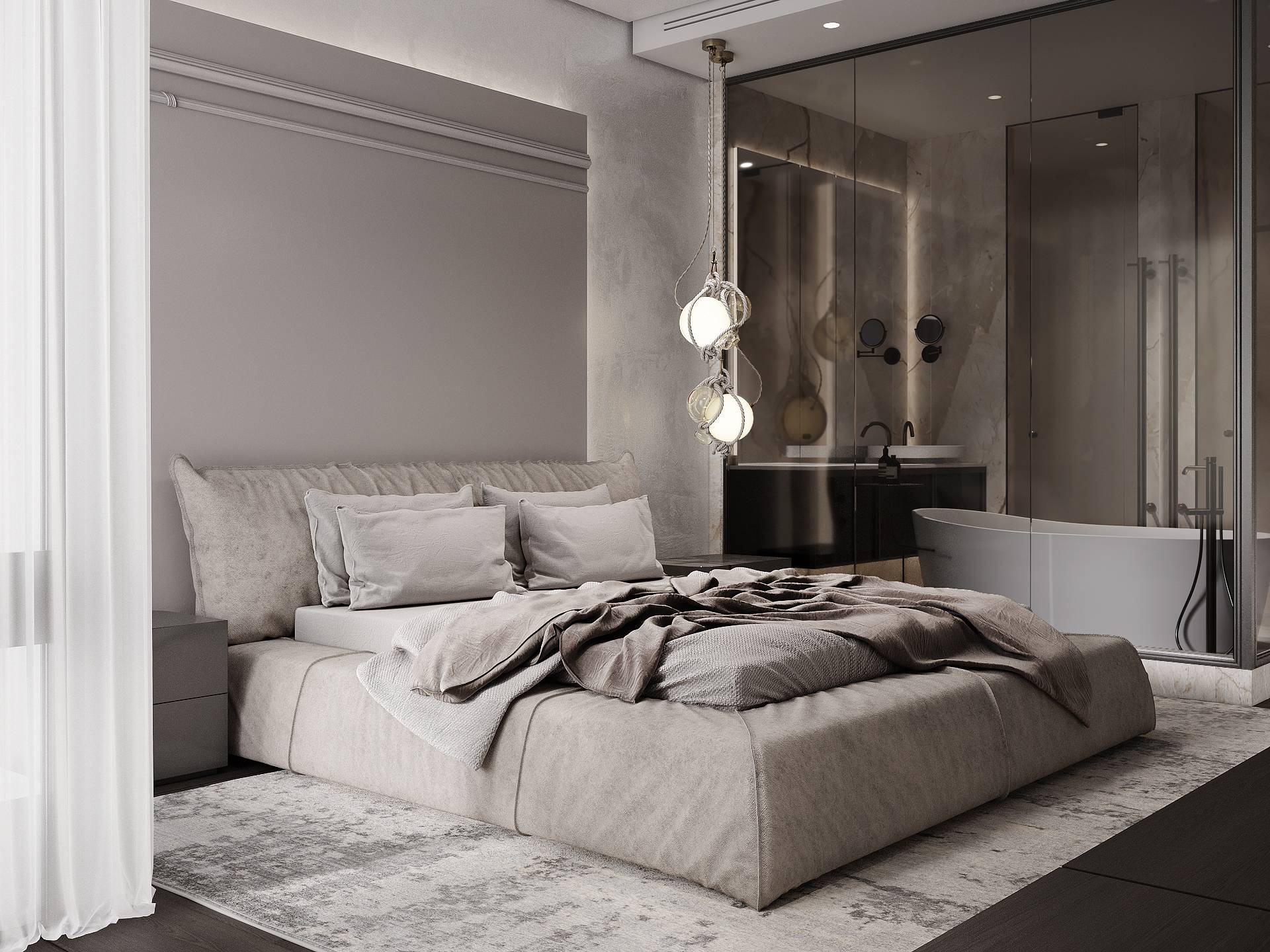 The bedroom is the most intimate space in the apartment, and we wanted our design to evoke that feeling of intimacy. Hence – that's the lightest room in the house, with minimal decoration and maximum space. Behind the Baxter bed, we installed the backlit plasterboard panel with stucco moldings, creating a mysterious 3D effect, which we amplified by hanging the Roll&Hill pendant light. Since our client enjoys reading, we designed a beautiful corner where she can do it with pleasure for the soul and safety for the eyes.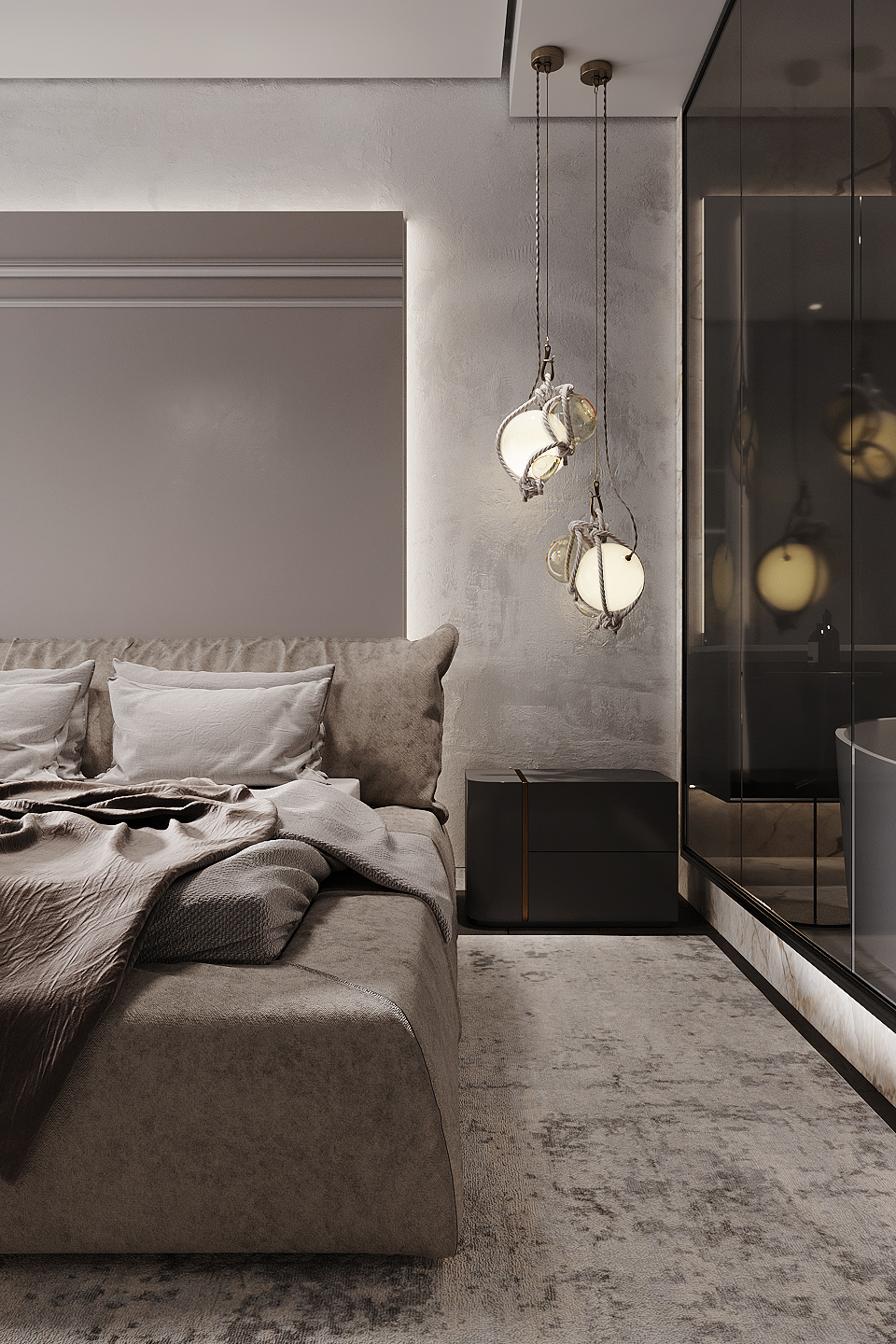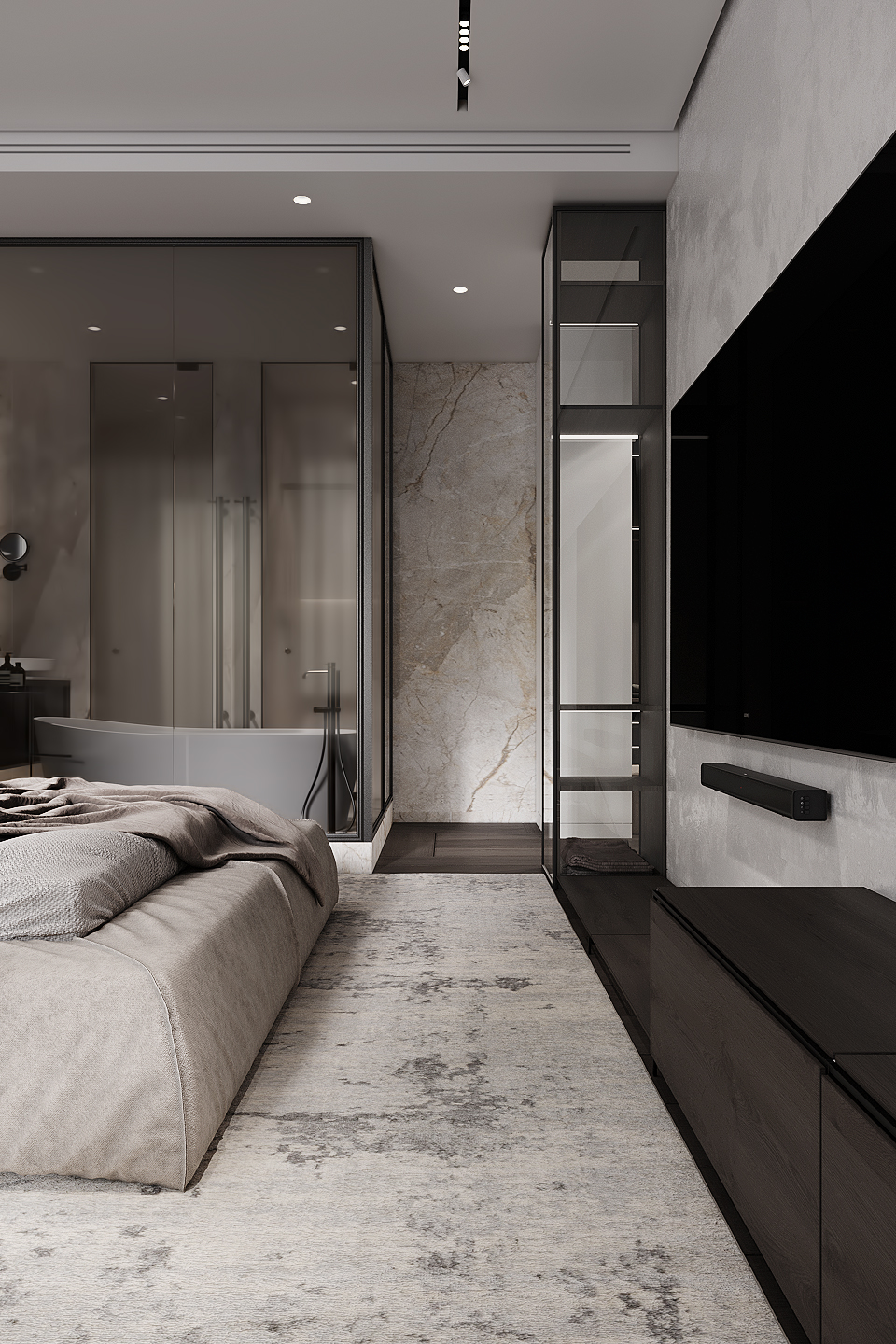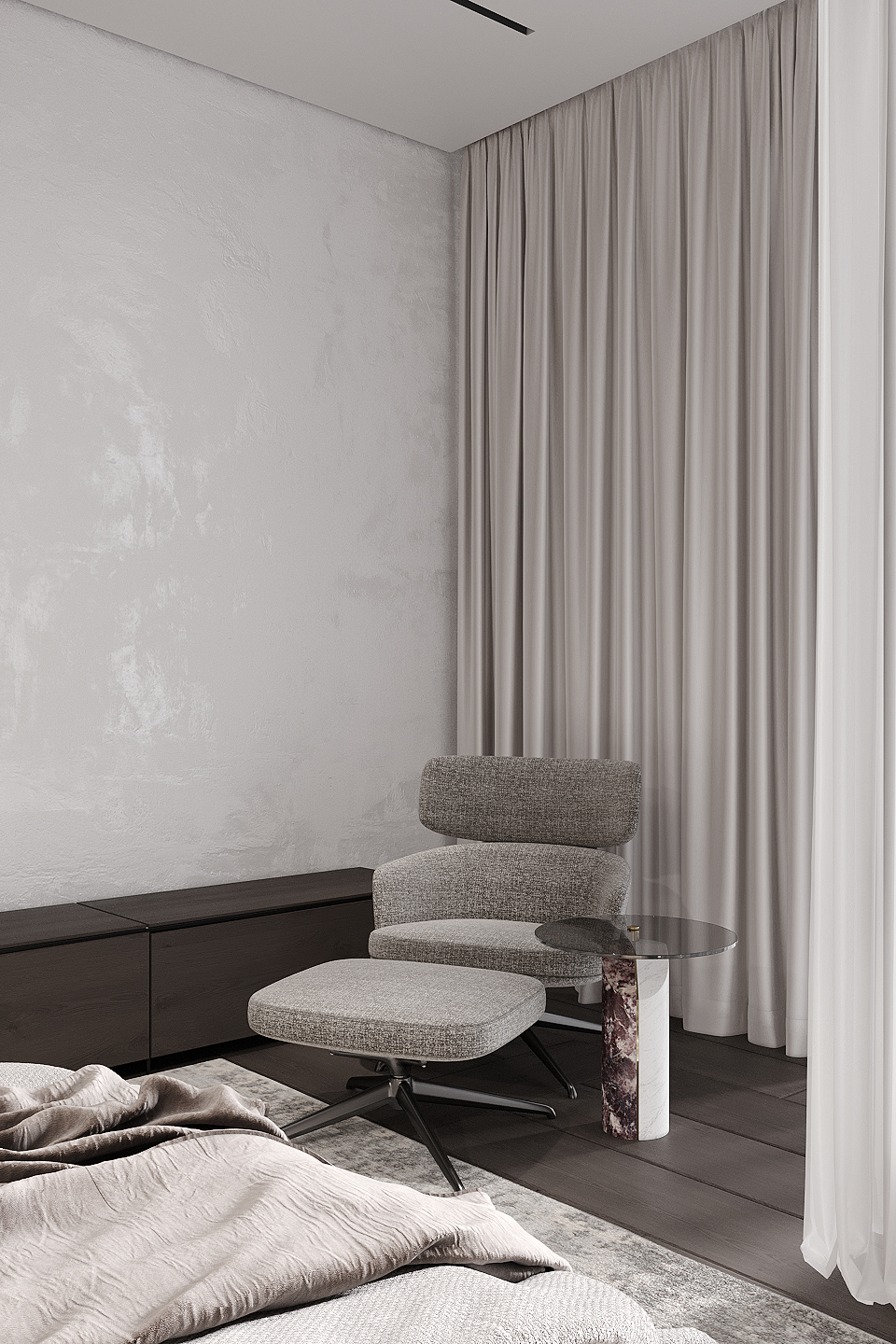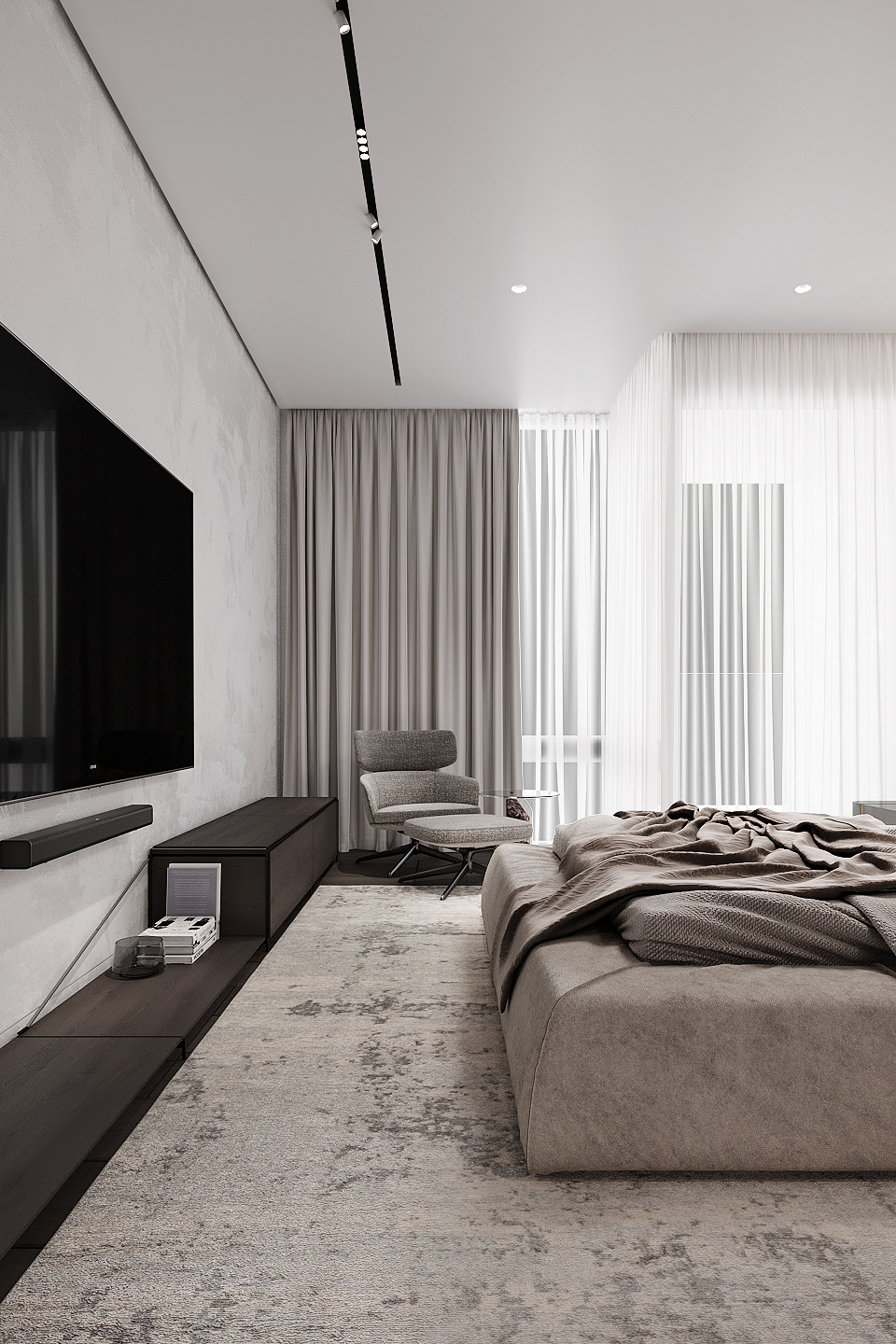 This bathroom is decorated with natural marble and a luxurious part of the owner's block. Think of it: the room has a stand-alone Inbani tub near the glass wall to ensure a panoramic view, it's equipped with the best-quality water fixtures and just speaks class through the forms and tiny details. Isn't it a modern luxury?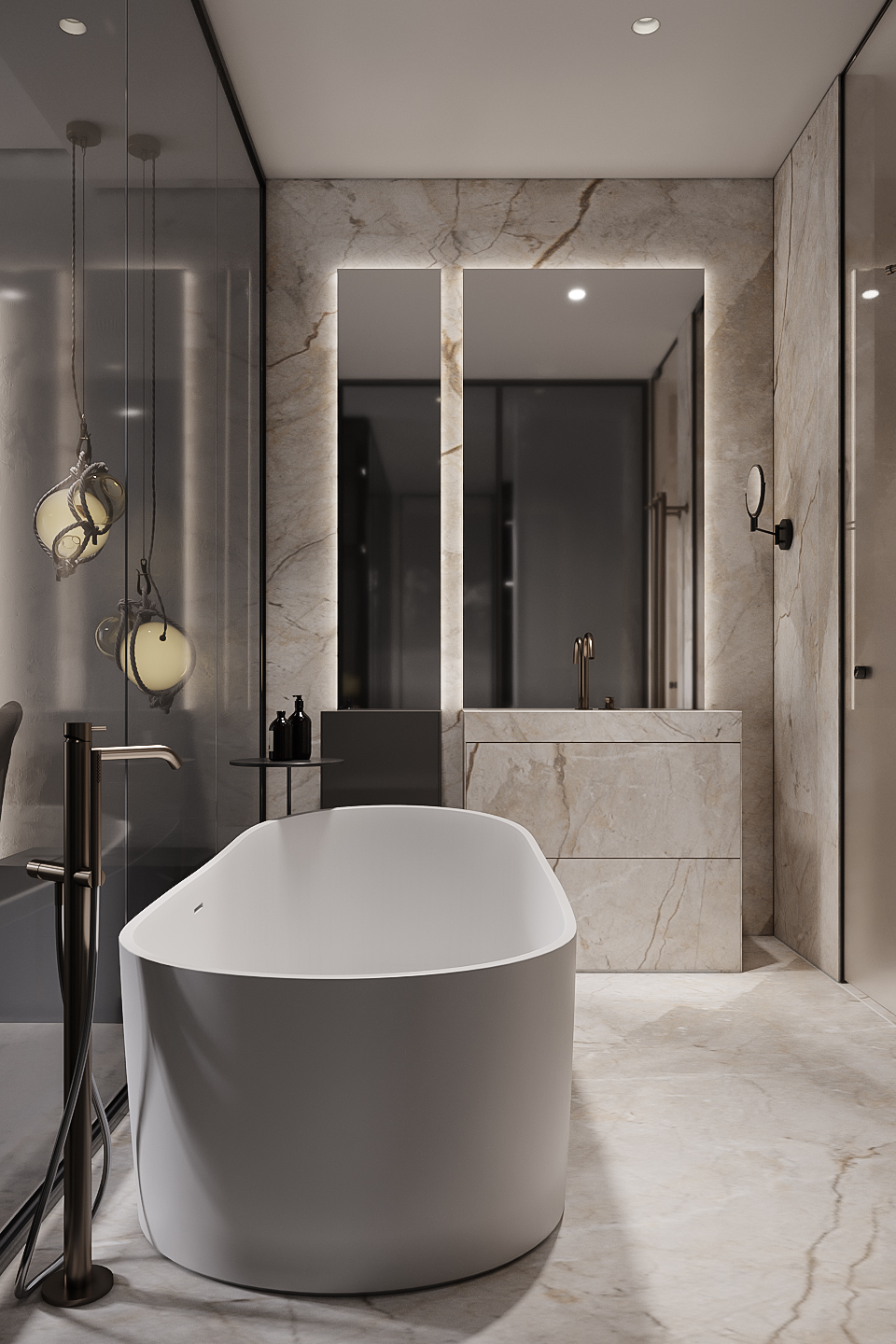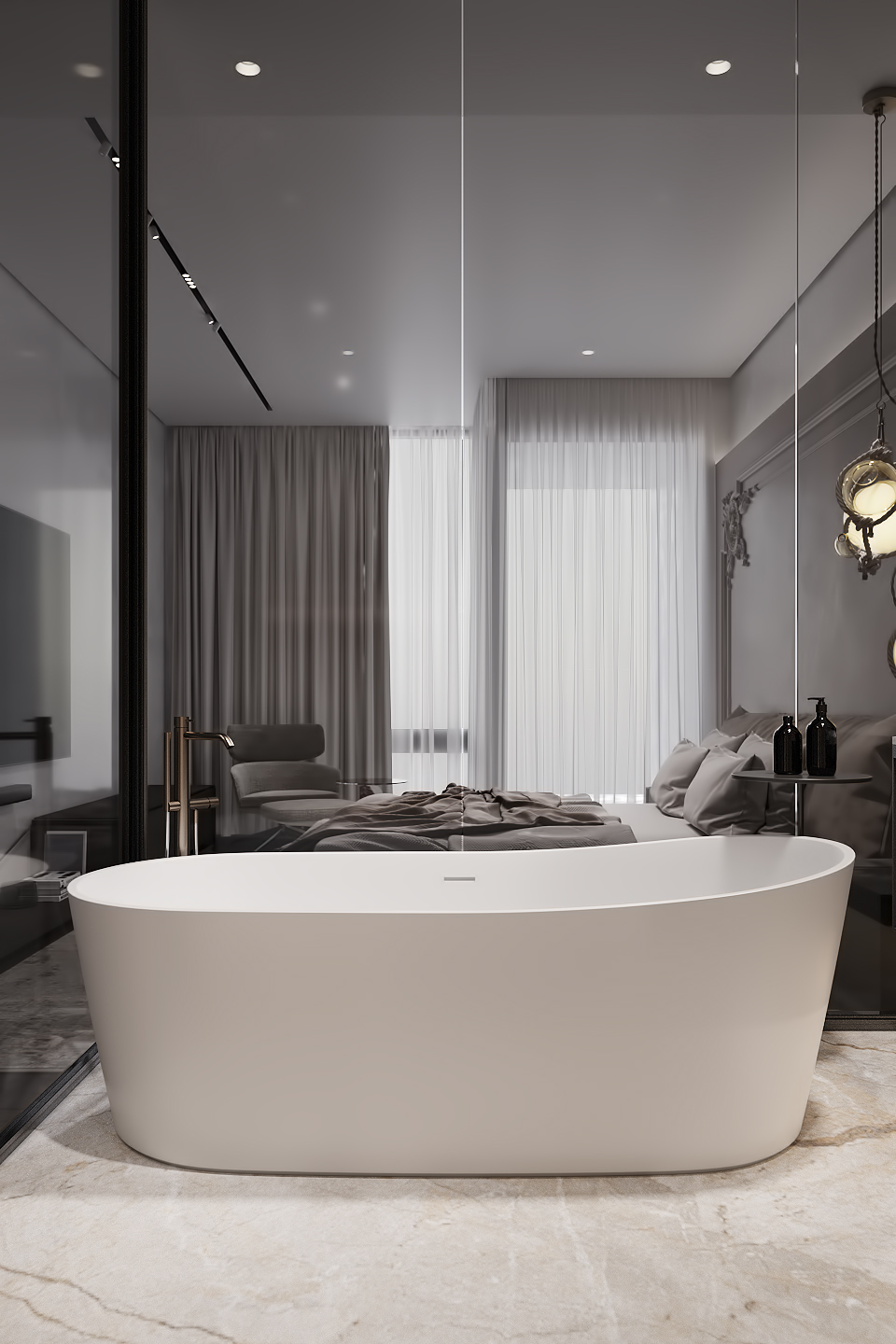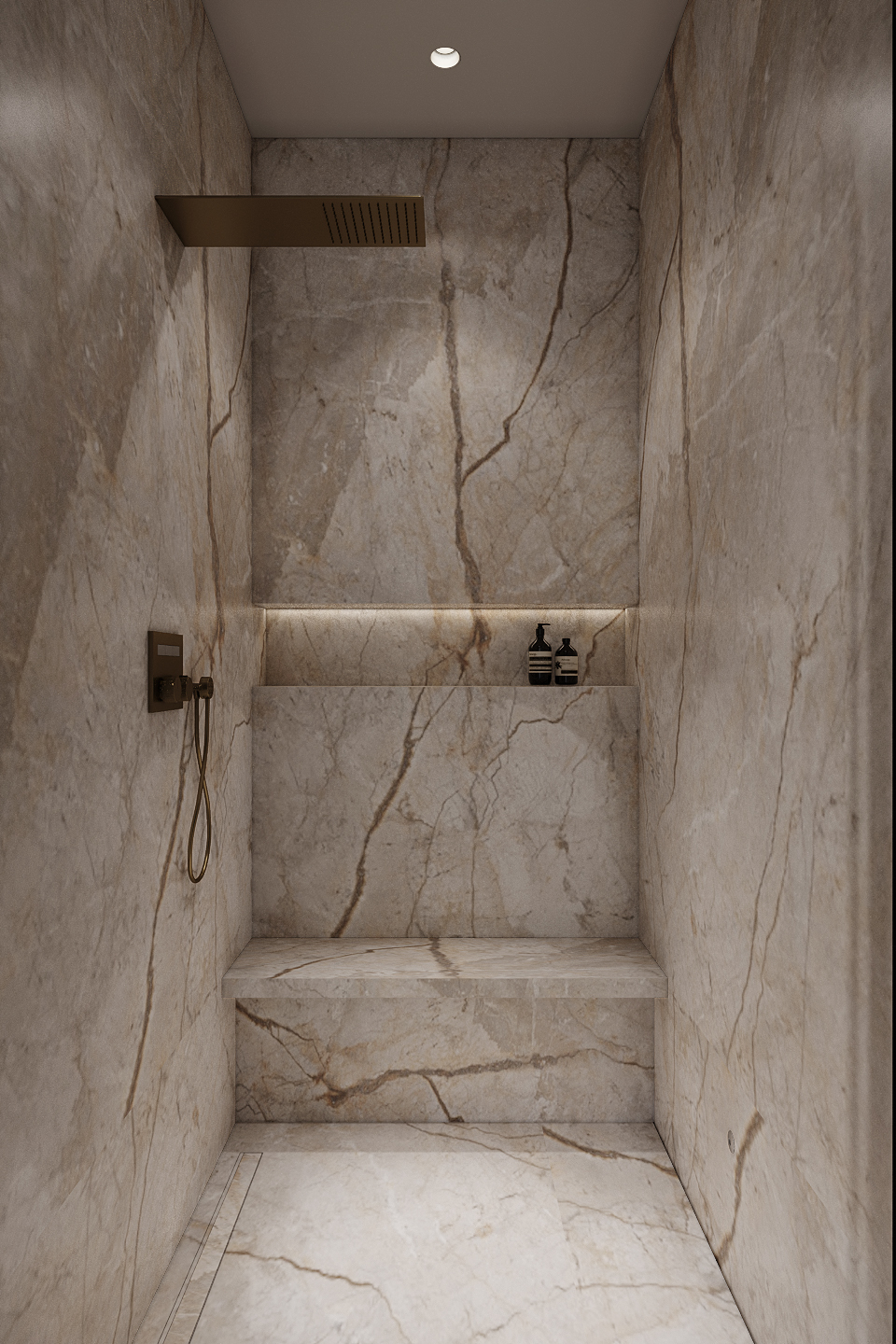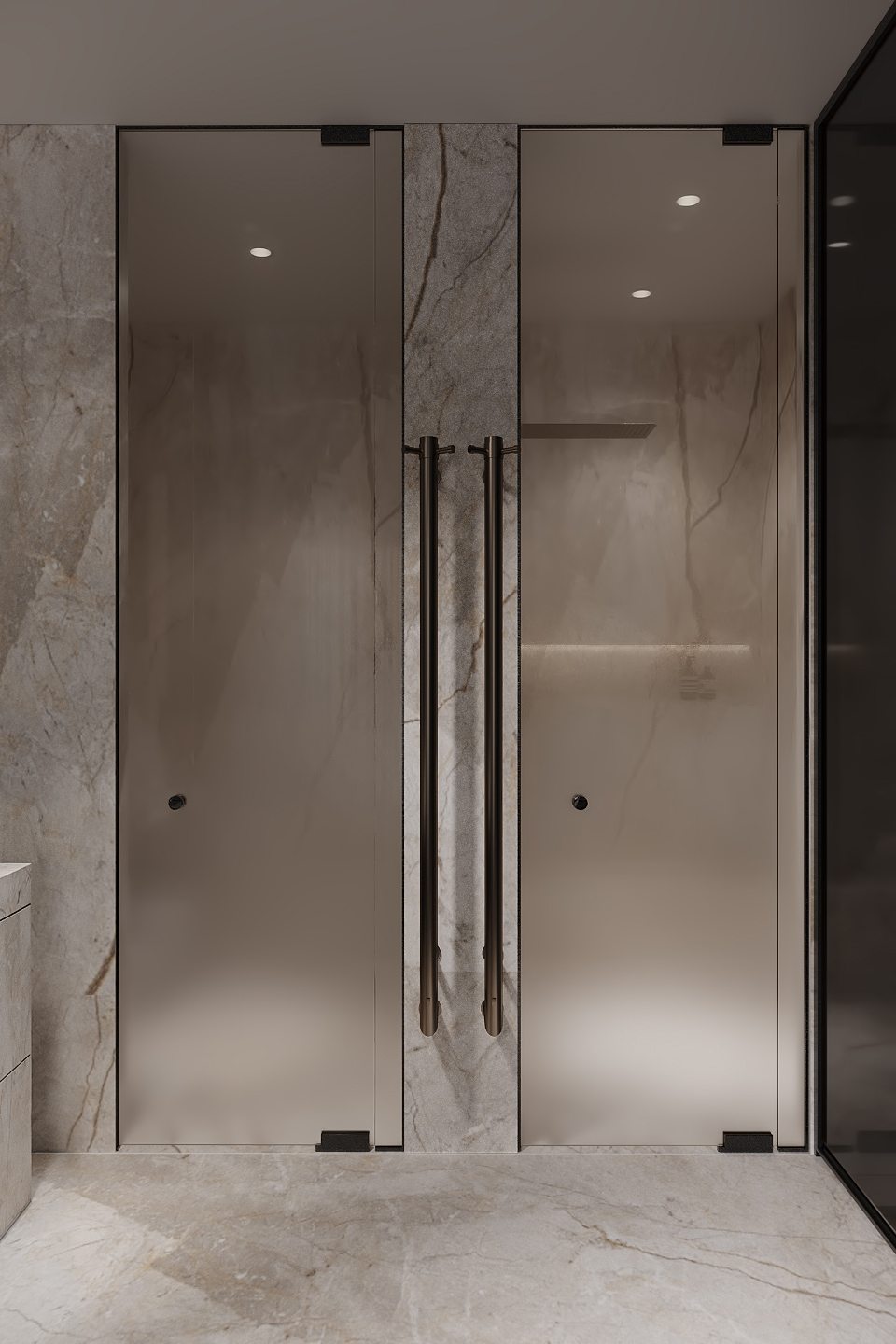 LAYOUT SOLUTION

---